Africa
Focus Areas
Agricultural Finance
We look to increase access to the finance and investment needed to transform African agriculture by supporting innovative projects that demonstrate business models and reduce barriers to investment, thus encouraging greater private sector involvement.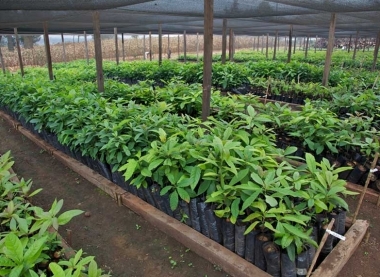 Between 70-80% of Africa's population works in agriculture, but it is a high risk sector – vulnerable to unpredictable weather patterns, volatile international commodity prices and political interference. Such risks discourage investment, such as loans for smallholders to buy improved seeds and fertiliser or equity allowing agricultural small and medium enterprises (SMEs) to purchase the equipment and technology needed to grow. Furthermore, the cost of expanding financial services through rural areas is often prohibitively expensive for traditional business models.
These risks and costs lead to low investment, which traps agriculture in a negative spiral by leading to lower returns that leave lower funds for investment.
Gatsby understands that breaking this spiral and turning it positive is a necessary precondition for broad-based development and poverty reduction, and that this can only be achieved through greater private sector involvement. As a result, in recent years we have looked to support and incubate innovative ideas in agricultural finance and investment, taking risks to prove principles and thus encourage others to scale-up interventions. We have done this by:
Demonstrating business models African Agricultural Capital, the first private equity fund dedicated to investing in agricultural SMEs across East Africa, was started by Gatsby and partners in 2005. After investing its initial capital of $8m in a portfolio of 16 businesses and showing investment in this segment can be profitable, it has recently raised an additional fund of $25m. Gatsby has also invested in projects in Mozambique aiming to create commercially sustainable food industries and thus stimulate others to invest in Mozambican agriculture.
Reducing information barriers Gatsby has developed a research tool that maps supply and demand for agricultural finance at a national level. Agricultural Finance Markets Scoping (AgFiMS) will thus reduce barriers to investment by giving investors and donors credible, detailed market information. After piloting it in Tanzania, we will now look for partners to take AgFiMS to other countries.
Piloting and integrating new investment models in sector programmes We address the challenges of agricultural finance in each of our sector programmes. In the Tanzanian cotton sector, we have piloted a new regulatory framework based on contract farming to enable greater investment in farmers by ginners; contract farming is now being rolled-out across the whole industry. In the Tanzanian tea sector, we have developed a matching finance challenge fund to encourage private tea factories to invest in their smallholder suppliers.