Africa
Latest
07/07 Impact of COVID-19 on East Africa - Recommended Reading
Each week we are sharing some of the interesting articles we've read recently on the impact of the COVID-19 crisis in East Africa.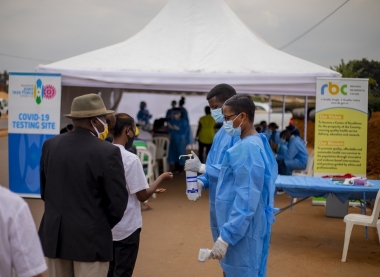 1 – Professor Dalia Marin (Munich School of Management) writes how COVID-19 may slow the expansion of global supply chains by 35% or even result in their contraction, as lockdowns majorly disrupt the relationship between firms and their suppliers.
Since global supply chains have been a major driver of productivity growth in recent decades, Marin expects the current supply-shock recession to precipitate lower trend GDP growth. She believes the only option is for policymakers to spur growth in specific sectors that have a strong complementary relationship with the rest of the domestic economy.
COVID-19 & The Disruption of Global Supply Chains
Between 1990-2008, global supply chains were the "quiet engines of economic globalisation" – the rapid expansion of trade was responsible for 60-70% of growth.
Openness peaked in 2011, since then governments have employed protectionist policies. The resulting slowdown of global value chain growth helps explain why productivity growth has been anaemic in many developed economies over the last decade.
Following the onset of COVID-19 this year, world trade is no longer expanding faster than world GDP – if this continues, firms will begin re-shoring manufacturing from Asia and elsewhere.
The IMF/OECD have forecast a V-shaped recovery in 2021, heavily influenced by the rapid recovery of global value chains following 2008. However, such analyses fail to recognise how the 2008 downturn originated in the financial system – not in the real economy worldwide (as with COVID-19 downturn).
The disruption at the moment is unique – suppliers affected by lockdown are imposing substantial output losses on their customers (especially when their product is highly specialised & technical). For many firms, switching to other suppliers will prove costly and will take a long time.
Recommendation: Spur Growth in Specific Sectors
In these circumstances, Marin believes "the only option" is for policymakers to spur growth in specific sectors. According to recent modelling, sector specific stimulus may generate the largest fiscal stimulus per dollar spent.
It's important to make the distinction between an economy in which 50% of activity is fully shut down (as in a pandemic) and an economy in which all activity collapses by 50% (as in a depression). In a pandemic, a sector's relationship to the rest of the economy is pivotal.
To maximise the impact of fiscal stimulus, policymakers should identify sectors that have a complementary relationship with the rest of the economy (e.g. cars in Germany – a higher demand for cars results in higher demand for auto inputs, 71% of which are manufactured domestically).
Policymakers should not select sectors that have a substitutive relationship with the rest of the economy (e.g. restaurants – as dining out reduces supermarket shopping, which results in less aggregate demand).
2 – The United Nations Conference on Trade and Development (UNCTAD) just released its annual World Investment Report, which explores the impact of COVID-19 on foreign direct investment (FDI).
Outlook
The report suggests that COVID-19 will decrease worldwide FDI by 40% – from $1.54T in 2019 to $0.9T this year. FDI has not fallen below $1T since 2005.
New announcements regarding greenfield investment projects and cross-border mergers & acquisitions fell 50% in Q1 (vs. last year) – and new infrastructure deals are down 40%+.
Next year, FDI is projected to decrease by a further 5-10% – with recovery only expected in 2022. The nature of the recovery depends on a range of contingent factors – e.g. the duration of the health crisis, the effectiveness of policies.
Developing economies are expected to experience the largest fall in FDI because they heavily rely on investment in global value chains (GVCs) and extractive industries, which have been severely disrupted. In addition, governments in these economies are not able to put in place the same economic support measures as in developed economies.
Across Africa, FDI flows are forecast to fall by 25-40% in 2020 – which follows a 10% reduction in 2019. The investment trends are being exacerbated by low commodity prices.
Response
Several multilaterals - such as the G20 - have issued declarations in support of increasing international investment. 70+ countries have taken measures either to mitigate negative effects on FDI or to shield domestic industries from foreign takeovers.
Specific support measures include: online investment facilitation; pandemic-related services of investment promotion agencies; new incentives for investment in health care; mandatory production; export bans on medical equipment; and a reduction of import duties for medical devices.
The global effort to fight the pandemic has stimulated the growth of sustainability funds (especially social bonds). In Q1 this year, social bonds related to COVID-19 raised $55B, exceeding the total value of all social bonds issued in 2019.
Implications
COVID-19 is exposing the deep fissures in international production systems, which have been created by the new industrial revolution (e.g. automation), the rise of economic nationalism, and the sustainability movement (driven by concerns re: climate change).
Based on these forces, UNCTAD forecasts four trajectories (which are not mutually exclusive):
Re-shoring – could lead to shorter / less fragmented value chains and greater geographical concentration of value added. This would make it harder for developing economies to climb the GVC ladder.
Diversification – could lead to a wider distribution of economic activities, which would increase opportunities for new entrants to participate in GVCs. The digitalisation of supply chains will mean GVCs are loosely governed, platform-based and asset-light - making value capture in host countries more difficult.
Regionalisation – could reduce the physical length - but not the fragmentation - of supply chains. This could result in a shift from global efficiency-seeking investment to regional market-seeking investment and from investment in vertical GVC segments to investment in broader industrial bases. According to the report, this trajectory would make regional economic cooperation, industrial policy and investment promotion indispensable.
Replication – could lead to shorter value chains and a re-bundling of production stages, implying a shift from investment in large-scale industrial activity to distributed manufacturing, lean infrastructure and digitalisation. This is especially relevant for hub-and-spoke and regional processing industries.
These trajectories imply a major shift – since international production and export-oriented industrialisation have been the pillars of industrial development strategies in most developing countries for the last thirty years.
While investment geared towards exploiting abundant factors of production (e.g. natural resources and low-cost labour) will remain important, the pool of this investment is expected to shrink. This means low-income countries will need to rebalance their growth strategies – focusing on domestic/regional manufacturing demand and services.
3 – Across Africa, the pandemic is destroying the livelihoods of the middle class, who have played a key role in driving the continent's recent economic expansion. A story in the New York Times goes beyond the numbers to look at how people from Nairobi, to Lagos and Kigali are being affected.
In Africa, COVID-19 may push as many as 58M people into extreme poverty
The continent's middle class has tripled in size over the last thirty years (c. 170M people today). According to the World Data Lab, 8M of this group could fall into poverty as a result of the crisis.
This group plays a crucial role in driving the continent's growth, domestic consumption and business dynamism.
The New York Times article picks out a few powerful stories:
Maryan Bashir, who owns three stores in Nairobi that sell mattresses/curtains, noted traders like her were worried as soon as the pandemic impacted imports from China. Now, these shops have no customers, so she is struggling to pay rent in Nairobi's once-bustling malls – like so many other business owners.
In Lagos, the owner of a small sports marketing company, Biola Kazeem, has lost 70% of his business due to the cancellation of sporting events. He has had to put half of his staff on leave - without pay.
The pandemic is posing a threat to nascent industries that appeared set to boost the number of middle-income earners. In Rwanda's rising textiles and garments sector, Matthew Rugamba (Founder, House of Tayo) says his firm have lost nearly all its customers since re-opening.
This story pulls us away from the broader picture to highlight the human cost of the current pandemic.
Photo credit: Rwanda Ministry of Health