Africa
Latest
11/08 Impact of COVID-19 on East Africa - Recommended Reading
Each week we are sharing some of the interesting articles we've read recently on the impact of the COVID-19 crisis in East Africa.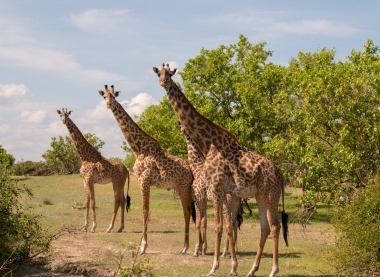 This week, we recommend the following three articles:
1 – GeoPoll has conducted an extensive survey to explore the financial impact of COVID-19 in sub-Saharan Africa.
The study was motivated by the World Bank's prediction that growth in the region will fall by over 5% this year.
The survey was conducted in five countries: Kenya, Nigeria, Côte D'Ivoire, Mozambique, and South Africa. The main areas explored by the poll were:
ability to work and income changes due to COVID-19;
the ability to pay for basic needs;
the use of loans and mobile money services; and
access to government support.
Results
Of people employed from January-March, 60% say that COVID-19 has stopped them from being able to work.
Over 50% of workers believe they will have a job to return to when COVID-19 restrictions are lifted. Only 15% stated they would not have a job to return to post-COVID-19, indicating many believe the impact will be temporary.
COVID-19 is disproportionately affecting the informal economy and those earning low incomes. Individuals relying on informal activities - such as street sellers and agricultural workers - are reporting more significant losses of income and are facing more uncertainty regarding their future employment.
Income has drastically decreased for around 50% of the population, which has left many unable to pay expenses. 42% of informal workers are now paying their expenses with loans or credit. 20% of mobile loans - with high-interest attached - are resulting in default.
Mobile money use has actually decreased for 60% of the population – this is tied to the decrease in overall spending
Across the five countries surveyed, more than 80% of people state they have not yet received aid. In Africa, fiscally-constrained governments are wary of inflationary pressures and have not instituted stimulus packages on the same scale as elsewhere. Governments are not in a position to provide aid to some of the most vulnerable citizens.
While there is concern that the worst is yet to come for Africa (with regards to COVID-19 and the economic impact), the continent's resilience has surprised analysts thus far.
2 – The UN Economic Commission for Africa has published a summary of a meeting between ambassadors from Africa, the UN and China, in which the socio-economic response to COVID-19 was discussed.
Since China was the first country to suffer from COVID-19 and one of the first countries to emerge from the socio-economic shock, it's well positioned to advise on recovery. The phased reopening approach adopted in China could serve as a model for Africa, although it will need to be adapted to fit the continent's context and capacity.
The dialogue was an opportunity for officials from the UN and various African countries to understand how China's approach to recovery could be adapted; how China can help Africa aside from providing medical supplies; and how the three stakeholders can prioritize policies in response to COVID-19 / in preparation for a post-pandemic recovery.
The dialogue outlined the steps for a rapid and safe recovery. A comprehensive and multi-sectoral set of interventions is required which focus on the medium- / long-term and incorporate the private and public sectors. The UN Coordinator in China stated that "there is a real need for a coordinated global response, especially on debt sustainability for low and lower middle-income countries".
Some alarming projections were shared during the dialogue. In Africa, GDP growth is projected to decline by 5% (although East Africa as a sub-region is actually expected to grow – albeit by a reduced amount). There are serious nutrition and employment issues to address. Approximately 20M in Africa will face food insecurity and a further 19M will be jobless due to COVID-19. Moreover, debt levels and fiscal pressures are growing as governments borrow more to support their citizens.
3 – An article in Africa Renewal explores the impact of COVID-19 on Africa's tourism industry and how the industry is innovating in a bid to survive.
The crisis has halted tourism worldwide, with Africa experiencing a 74% reduction. Prior to the pandemic, Africa was the second fastest growing region for tourism. In 2018, 67M international tourists visited countries in Africa, generating $38B for the continent. The forecasts for traveler numbers in 2019 and 2020 was an increase of 4.2% and 3-5% respectively.
Clearly, the industry has been hit hard – nearly 8M travel and tourism jobs have been lost in Africa so far. High levels of unemployment and vanishing revenues prompted an international appeal in May - led by air transport and tourism bodies - asking for $10B to save the sector.
As countries begin to ease COVID-19 travel restrictions, many are re-opening or planning to re-open their tourism industries. In East Africa, Tanzania is open to international tourists and Kenya is promoting domestic tourism. Uganda and Rwanda are waiting a bit longer before reopening their sectors.
The Secretary-General of UN World Tourism Organisation (UNWTO) says if travel restrictions are lifted in a responsible way the social / economic benefits of tourism are sure to return. While the UNWTO stresses the need for vigilance and international cooperation, the organisation has committed to help Africa grow back stronger and to ensure tourism emerges from this crisis as an important pillar of economies.
In the meantime, safari organisers in Africa have been trying to digitally cater for the world's locked down populations. Led by Kenya and South Africa, virtual live stream campaigns have showcased the beauty of Africa's wildlife, beaches and other tourist sites to a global audience. The goal of the campaigns is to ensure that would-be travelers remain connected to African destinations. The sector must innovate like this in order to keep afloat in these trying times.