Africa
Latest
21/07 Impact of COVID-19 on East Africa - Recommended Reading
Each week we are sharing some of the interesting articles we've read recently on the impact of the COVID-19 crisis in East Africa.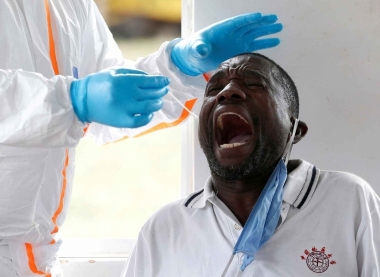 1 – The AfDB has published its East Africa Economic Outlook (2020), which explores macroeconomic trends and outlines the importance of skills development for the region's future workforce.
Macroeconomic trends
Economies in East Africa are transitioning away from agriculture (28.3% of GDP in 2018) towards services (53.8% of GDP in 2018). Unless the region can specialise in higher value-added services, the AfDB is unsure this transition will trigger structural transformation. COVID-19 has exposed the fragility of demand for services.
Economic growth in sub-Saharan Africa's is projected to fall to between -2.1% and -5.1% this year. If COVID-19 is contained, East Africa is projected to grow between 0.2% (worst case) and 1.2% (baseline) in 2020.
Debt in East Africa is 59.2% of the region's GDP (the IMF's threshold for developing economies is 40%). The fiscal deficit is expected to widen as countries seek to improve health systems and tackle the socio-economic impact of COVID-19.
East Africa's growth has been impressive – but not inclusive. COVID-19 may deepen inequality and inhibit poverty reduction efforts, which have made slow and inconsistent progress to date.
The AfDB believes pro-poor policies should be implemented, including: industrialization to promote job creation; decentralization of government; increased access to quality education, healthcare, justice and housing; enhanced employability of women and youth; increased access to finance to enable innovation.
Skills development for the future workforce
Issues in the education sector
Many of the poor - who cannot afford to pay for secondary school - drop out of education after primary school (which is typically funded by the government). This leads to a low-skill workforce.
There is a mismatch between the skills in the labour force and those demanded by industry (e.g. technical skills in transport, energy, manufacturing, agro-processing & ICT). Owing to this mismatch, East Africa has had limited export success.
East Africa has a low "human capital optimization" (i.e. children end up earning 42% of what they could - if the region's resources were adequately invested in skills and healthcare).
The closure of schools and universities due to COVID-19 has affected 90M students. This could create long-term human capital issues, widen learning inequalities and disproportionately affect girls (who may never return to school).
The workforce opportunity
The transition to services and regional integration efforts are expected to boost demand for skilled labor (e.g. Lamu Port-South Sudan-Ethiopia-Transport - LAPSET - will generate 200K jobs).
World Economic Forum believes the future of East Africa will be characterized by "disturbances in the form of automation, changes in how people work and the ICT intensity of skills"
The AfDB urges policymakers in East Africa to focus on improving education access and the quality of learning. Governments can achieve this by linking curricula to industry needs; offering career advice to students; investing in education technology; addressing socioeconomic factors that prevent children from attending school; integrating creative thinking and emotional intelligence in curricula; making finance in education more progressive.
2 – An article by Reuters Graphics explores the WHO's concern that Africa could face a "silent epidemic" due to a lack of data.
While Africa has 4.5% of global cases, WHO & Africa CDC say this is not an accurate reflection of the spread on the continent. Africa has carried out fewer tests than elsewhere in the world – c. 4.2K tests per 1M people (vs. 7.7K in Asia and 74K in Europe).
Why has there been insufficient COVID-19 testing in Africa?
Most African countries have faced shortages of materials, personnel and funding (out of 54 countries, only South Africa, Morocco, Djibouti and Ghana have been able to test widely).
DRC took 3+ months to test outside the capital and requires 2 weeks to return results. Nigeria has only been able to deploy 25% of the country's testing capacity - due to insufficient technicians and logistical problems (e.g. poor roads).
Widespread poverty and conflict have significantly hindered effective testing.
Why has data collection been so difficult in Africa?
According to Africa CDC, collecting data across the continent was a challenge pre-COVID-19 – the pandemic has just made the situation even more difficult.
The WHO's work has been hindered by some governments that are reluctant to acknowledge the spread of the disease or expose their health systems to scrutiny.
The Tony Blair Institute says that the "spread of the virus seems to be outpacing testing" – so what needs to change?
Containment of the virus requires regional co-operation. If any one nation adopts a non-aligned approach, the disease may easily spread across borders.
Governments urgently need to increase clarity re the outbreak – without this critical data, it may prove difficult to justify the socio-economic cost of COVID-19 restrictions.
What alternative methods are being used to collect data in Africa?
Comparing countries: Reuters have developed an infographic that compares data between a non-compliant country and a neighboring country that is implementing COVID-19 restrictions (e.g. Burundi vs. Rwanda).
Comparing death statistics year-on-year: Some countries have been reviewing the number of deaths that exceed the historical average for the time of year.
Monitoring on the ground: In Rwanda, Ethiopia and Senegal there are programmes tasked with observing the frequency of funerals / speaking with community leaders
Using technology: Exploring patterns of Google searches - e.g. "why can't I smell?" - has helped offer insight on spread. The potential of this approach is limited – many people do not have smartphones and Google only tracks searches in English.
3 – A report by the Africa Growth Initiative at Brookings explores the impact of COVID-19 on trade in East Africa, using data in Kenya up to May 2020.
How has trade in Kenya performed during the pandemic?
In March, trade in Kenya was strong – the country's trade deficit declined due to significant improvement in exports and a slowdown of imports.
In April, exports fell by 33%.
In May, exports recovered by 9% - owing to seasonality. Total exports were in fact higher in May 2020 than in May 2019 – driven by tea and horticulture.
How has trade been affected in landlocked countries in East Africa?
Landlocked countries have been affected the most, with Rwanda and Uganda experiencing export declines of 37% and 34% respectively at the end of March. Kenya (-1.8%) and Tanzania (-5.7%) experienced much smaller declines due to direct port access.
COVID-19 safety measures - such as mandatory testing for truck drivers - has led to long queues at borders (the cargo transit time between Mombasa and Busia rose from 4 days in January to 12 days in March). Logistical issues have led to increasing demurrage / storage costs at ports for shipments bound for landlocked EAC countries.
The women and young people who depend on cross-border trade - prohibited during COVID-19 - have been the worst affected communities.
How have "re-exports" fared?
"Re-exports" are goods that a country imports and then effectively forwards on to other countries within the same trade bloc.
Re-exports performed well in Q1 2020 due to the rapid procurement of goods by EAC countries anticipating shortages. As lockdown resulted in fewer goods passing through Kenya's borders to EAC partners, re-exports declined 83% in April before slightly recovering by the end of May.
The cargo throughput at the port of Mombasa fell by 23.1% in May – which raises a concern around long-term implications of pro-longed lockdowns.
How have imports fared?
While imports reduced during the pandemic period, the value of imports in March was higher than a year ago.
In April, the supply shock eventually hit Africa and resulted in a drastic drop in imports (esp. from China – which accounts for 25% of Kenya's pre-COVID-19).
As the pandemic shifts geographically, further disruption with more trading partners is expected.
Which sectors have performed well during the crisis and which have been hit hardest?
Winners: Exports of food and beverages increased during the crisis. The volume of fruit exports surpassed the level reached during the 2019 season and Kenya's sizeable tea industry has seen little disruption (tea exports peaked at 58K tons in April - the highest on record).
Losers: Kenya's exports to the US - in particular textiles under AGOA - have decreased significantly. Exports of flowers and vegetables to the EU - which accounts for 80% of Kenya's horticulture exports - have seen sharp declines. Exports of industrial supplies and consumer goods from Kenya have also dropped.
Trade policy recommendations
Streamline border clearance procedures to enable the flow of trade while maintaining safety protocols.
Deliver a coordinated EAC approach to ensure trade continues and vulnerable countries are protected.
Adapt modes of transport to earn export revenues and procure essential imports (e.g. repurpose passenger planes for cargo).
Support border communities - especially women and young people - where livelihoods are heavily dependent on informal cross-border trade.
Encourage local producers to fill the gap left by the reduction in customer goods imports.
Commit to implementing the AfCFTA – this is more urgent than ever as will help mitigate economic distress.
Photo credit: Thomas Mukoya for Reuters