Africa
Latest
28/07 Impact of COVID-19 on East Africa - Recommended Reading
Each week we are sharing some of the interesting articles we've read recently on the impact of the COVID-19 crisis in East Africa.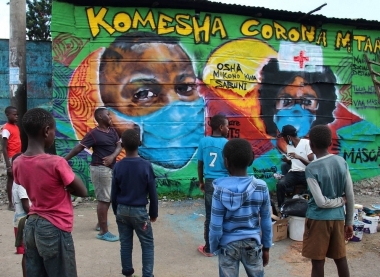 This week, we recommend the following three articles:
1 – McKinsey look at the potential impact of COVID-19 on Africa's food system. In addition, their report explores how governments and firms can build the resilience of farmers / the food system in advance of future shocks.
Africa's Food System: Current Trends
In East Africa, the major planting season was underway before lockdown started and inputs had already been distributed. The food system has continued to operate as related economic activities have been declared essential. Efforts have been made to keep borders, ports and inland transport routes open.
The locust invasion, low rainfall (in parts of southern Africa) and flooding (across East Africa) have led to a food security crisis in some regions.
While markets remain open and prices are stable, agricultural exports have faced severe disruption:
Logistical bottlenecks at markets: McKinsey examined 450 major food markets in Kenya in April and found 90% were open and 10% were relocating to open-air venues. Travel restrictions, border checks, curfews and staff shortages are disrupting supply chains. Regulatory changes have also inhibited the flow of trade.
Price hikes: at the start of lockdown many countries experienced 4-27% spikes in commodity prices (vs. Mar-Jun 2019). Prices have been gradually falling, suggesting panic buying / hoarding was responsible for the hikes.
Supply / demand disruptions: the weak demand in Western Europe severely impacted Kenya's flower and horticulture sectors. In addition, supply chain issues have also negatively impacted exports, including a 75% reduction in available cargo and increased cargo costs.
What Might Exacerbate Food Insecurity? Potential Medium- / Long-Term Shocks
Demand shocks: the loss of jobs / livelihoods and general price volatility will continue to worsen food insecurity.
Supply chain shocks: $500M-$2B of fruit, vegetable and nut exports could be lost due to supply chain disruptions (e.g. flight cancellations and cargo backlogs). Producers will also have to adopt sanitisation protocols in farms / factories. As a silver lining, the severe lockdown in India may create an opportunity for tea in East Africa – Kenya achieved some of its highest tea exports in March.
Trade shocks: 80% of Africa's agricultural exports ($40B p.a.) depend on markets in Western Europe (45%), South and East Asia (20%), Middle East (10%) and North America (5%). Kenya, Tanzania and Uganda may face economic hardship as they are reliant on these markets as sources of export earnings.
Production shocks: analysts anticipate disrupted planting seasons, locust outbreaks, low availability of agricultural inputs and high logistical costs. As a silver lining, the cost of producing fertilizer is likely to come down in line with low oil prices.
Recommendations
For governments, ensure the continuity of food systems by:
establishing robust national-level "nerve centres" involving relevant ministries and firms;
creating digital platforms to track and forecast food availability, price and accessibility;
transforming "nerve centres" into standing crisis response units post-COVID-19 (to draw on lessons learned and mitigate future climate / economic shocks);
rethinking agricultural systems and the management of strategic food reserves, regional trade policies and production risks.
For firms:
ensure business continuity and help reimagine the food system by working with government to secure supply chains;
protect the health of employees; and manage cash flow in partnership with upstream and downstream actors. This crisis offers an opportunity to enhance the management of local supply chain bottlenecks;
prepare for demand depression (esp. export commodities);
embrace digitisation across the value chain (inc. in farmer extension services);
and explore M&A to diversify risks across value chains, countries and customers.
2 – The Global Commission on the Economy and Climate explore how the post-COVID-19 recovery presents an opportunity to build a more resilient / climate-smart future for Africa.
Economic Challenges in Africa
The prolonged impact of COVID-19 in Africa: poor access to clean water and basic health services will make containment challenging.
The global economic downturn: COVID-19 will hamper development efforts and may undermine two decades of macroeconomic improvement and social gains. Africa is struggling to raise 400M people out of poverty and 200M people out of severe food insecurity. The financial downturn will delay this - early forecasts estimate $500B in economic costs this year as a result of COVID-19.
Climate change: While the climate crisis may no longer take priority, Africa is facing simultaneous threats from droughts, climate-related armed conflict, locust invasions and the ongoing impact of Cyclone Idai (which destroyed half of Mozambique's crops and infrastructure last year).
Governments should focus on resilience and reducing dependency on fossil fuels
Given the financial risk, firms are opting not to invest in fossil fuel. Low carbon alternatives are cheaper and more reliable - $13T in investment is projected for new power generation by 2050 (with 77% going to renewables).
Leaders in Africa can pursue new development pathways and create a growth model that is sustainable, inclusive and resilient. This will include discarding fuel subsidies.
To realise this growth model, donors will have to help. Africa relies heavily on foreign income and the pandemic is threatening several sources of foreign exchange (e.g. tourism, remittances).
Africa will need to administer significant stimulus packages - equivalent to those in more developed economies, despite owing $44B in interest payments in 2020. The IMF should use its Special Drawing Rights to help mobilise more than $200B for the continent. The multilateral response has been positive response so far - the World Bank has fast-tracked a $14B package to strengthen COVID-19 responses in less developed countries and the G20 has agreed to suspend debt service payments this year.
Climate-smart investments will have long-lasting impacts. The post-COVID-19 recovery offers Africa an opportunity to revitalise its economy under a green framework.
3 – UN-Habitat examine the impact of the crisis in Africa's urban areas – and how policymakers should respond.
Africa is experiencing the most rapid urban growth in the world and high population densities in cities have accelerated transmission and made containment more difficult.
COVID-19 in Africa's Cities: Three Constraints
Health: there are low ratios of health professionals and hospital beds per population and countries typically rely on importing pharmaceuticals. 47% of urban residents in Africa live in informal settlements where access to health services / products is particularly limited.
Economic: all sectors have been affected with SMEs hit the hardest. Within the informal sector, a widespread loss of employment and income has been recorded.
Social: many risks have been elevated (esp. for women), including eviction, homelessness, food insecurity and information inequality. While local authorities have a crucial role to play in tackling the impact of COVID-19 in urban areas, the report notes these institutions are facing constraints (e.g. c. 60% loss of revenues since March).
How Governments, Regional Economic Communities and Multilaterals Should Respond
Deploy local communication and community engagement strategies.
Support SMEs and the informal sector.
Decentralise the response to COVID-19 by increasing local government capacity.
Support informal settlements by using data and drawing on local context.
Establish mechanisms to facilitate access to housing and prevent forced evictions.
Integrate urban planning and management as key priorities for post-COVID-19 recovery and rebuilding strategies.
Photo credit: Yahya Burugu Mathare, Roots Initiative