Africa
Latest
What type of development finance can kickstart sectors?
Gatsby Africa Executive Director, Justin Highstead, explores what we can learn about development finance from research into five successful examples of sector transformation.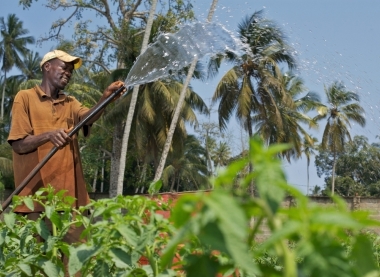 At Gatsby Africa we're focused on thinking about how to transform sectors.
It's great to be in a private foundation where we can both be ambitious and seek genuine long-term transformation, and also where we have the space to really reflect and learn – both from our own experiences and also from those of others.
Through that reflection and looking a little deeper into what drives sector transformation, we have increasingly been seeing the importance of interventions working directly with pioneering firms as a critical part of the story.
This resonated with us – as our work in some sectors in East Africa, such as tea, had led us towards the same place. In trying to catalyse the development of the tea sector we realised that we could have a more significant impact - and make our money work harder - through actually buying factories on behalf of farmers with concessional debt finance, turning them around, recouping our loans and leaving farmers significantly better off as owners of profitable factories with contracted professional factory managers.
In other sectors we saw the need for finance to back pioneering firms that were exploring new sectors, solving coordination issues and bringing in new technologies or capacity that would have broader sector impact.
The more we looked the more we realised this type of finance was in scarce supply. So we decided to commission some specific research to look at some sectors that have been transformed, and then to reflect on some of the key drivers of that transformation and the specific role that finance played in helping those sectors to transform.
We looked at five examples: tea in Kenya; salmon in Chile; cut flowers in Ethiopia; and the rapid rise of mobile infrastructure and household solar across sub-Saharan Africa. In all these cases, we found that concessional finance played a key role. This finance was provided either by a national development bank, a development finance institution (DFI) such as the UK's CDC, or an independent third-party organisation.
For example, Fundación Chile (an organisation with both public and private sources of funding) helped facilitate the growth of the country's salmon sector, acting as a pioneer investor in one of Chile's first large-scale salmon farms, Salmones Antartica. In the Kenyan tea sector, CDC was an important early investor, providing support in the form of soft loans, equity investment and technical assistance. The Development Bank of Ethiopia helped to catalyse the growth of the flower sector by offering long-term loans.
The shifting mandate of DFIs
DFIs were set up to play a transformational role, identifying new sectors that could drive employment growth and poverty reduction and then providing the requisite patient capital to firms. They often went further still in setting up and owning greenfield companies; taking responsibility for building capability and management teams; and driving technology transfer to pioneer new sectors. Over time their mandates have shifted: today, many seem to focus much more on finding genuine commercial opportunities.
The problem is that such opportunities are often absent - particularly in agriculture - or require many years of careful cultivation. Given the role agriculture can play in driving economic transformation and impacting huge numbers of people, it feels it should be a priority area for these institutions. And yet, as we dig into the data, it's clear that agriculture often makes up less than 5% of their investments due to its risk profile and the expectation of modest returns.
So what needs to change?
There needs to be a recognition that investing in African agriculture – particularly in nascent sectors with new borrowers – is an inherently risky endeavour. Returns can be made but they require patience and an acceptance of risk – that even the best laid plans might fail. In addition, institutions need a strategic vision, an emphasis on additionality (i.e. on how a deal can deliver an impact that wouldn't otherwise materialise), and a higher-risk appetite than pure commercial incentives allow for.
The flexible use of different tools is also important. These might include the creation of holding companies and open-ended structures; the ability to take majority stakes or cluster investments to solve coordination failures; or instruments such as first-loss capital and well-managed technical assistance facilities that might leverage in more commercial finance.
The positive news is that things are already starting to change. For example, DFID has lowered its return expectations from CDC and has stipulated that a certain percentage of CDC's investments are in agriculture. They have also given additional pots of capital such as through CDC's Impact Accelerator Fund that can invest in new and/or higher risk sectors. However, even when DFIs have the structures in place to allow for pioneering investments, fear of deal-failure remains an institutional barrier for PE investment professionals. Understandably, no one wants to put a bad deal on their CV.
Potential role for foundations
Foundations such as ours can also play a role. Another example from our portfolio is the work Msingi has been doing in aquaculture. Msingi is a regional East African organisation we have set up to transform sectors – through being positioned to partner with Governments as an honest friend, but also having ability to engage with the private sector and invest where this is catalytic. Msingi's first programme is in aquaculture, where there is incredible opportunity, despite it being a sector that has generally struggled in East Africa.
Msingi's analysis was that the sector needed a professional production business to reach a certain scale in order to mobilise investment by professional feed companies and stimulate other initiatives in genetics that would improve the competitiveness of the sector for everyone. Msingi began work with a professional management team, who had experience running successful aquaculture companies outside of East Africa. However, the finance needed to help them set up and grow was not available from the development finance sector – the venture was deemed too early stage and risky. Msingi has therefore provided a $2.5m loan that will help the company reach profitability later this year. The company is now in discussions to attract further finance from DFIs and others. In future, we would hope equivalent initial loans may come from a DFI.
What next?
The case studies open up a number of questions – such as whether it is useful to compare agricultural and non-agricultural sectors, and about the viability of smallholder agriculture, which many development organisations are promoting. These are important debates we look forward to engaging in further.
We also plan to commission further research looking at some of the other key factors in transforming sectors – such as the role of government, and the crucial dynamic capabilities that must be built over time to prevent a sector from collapsing.
Please take a look at the report by clicking here and let me know your thoughts and suggestions in the comments.