Africa
Programmes
African Fellows Programme
We supported the establishment of this fellowship programme which helped African scientists access cutting-edge technology and expertise at European research institutes to tackle problems in African agriculture relevant to smallholder farmers.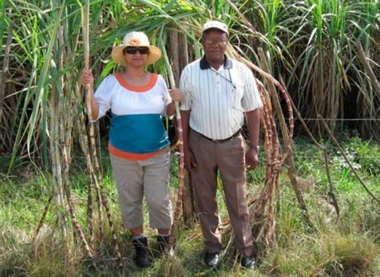 A lack of infrastructure and peer support frustrates talented African scientists, with many leaving science or looking for overseas appointments to fulfil their ambitions. In 2004 Gatsby supported Rothamsted International to establish a fellowship programme allowing African scientists to address local problems in agriculture, build their skills, create networks of scientific exchange and mentoring, and develop long-term institutional partnerships with European research institutions. The African Fellows Programme saw scientists at African organisations identify problems in their home countries and take up placements of 4-12 months at European research laboratories to gain access to the cutting-edge technology and expertise needed to develop solutions. Each Fellow committed to return to their home country and disseminate their findings in ways that benefitted local people.
The Programme's selection panel appointed 44 Fellows from 16 African countries who took up placements at 30 European partner organisations across 14 countries. Projects ranged from identifying the viruses infecting okra and watermelon crops in Cameroon to developing methods to improve soil productivity in Ghana.
The Programme's impact on individuals was considerable. In a survey of the Fellows, 94% said they had learned to use new equipment and techniques, while 25% had been promoted as a result of their Fellowship. All have maintained a relationship with partners in Europe, while 75% are still working in science in Africa.
The Programme's impact in terms of addressing local problems in agriculture depended almost entirely on scientists' home organisations having the mechanisms and motivation to feed knowledge through to the next stage in the pipeline, whether through field experiments or the training of extension officers. However, 56% of Fellows said they had had problems applying the knowledge they gained from the Fellowships. While the Programme helped address a critical constraint in African agricultural research, it remains crucial to tackle the problem of applying research to benefit farmers.