Africa
Programmes
Ugandan Parliament
We funded a project aimed at improving the quality of information on science and technology used within the Ugandan parliament in order to increase parliament's ability to scrutinise government proposals, thus strengthening the policymaking process.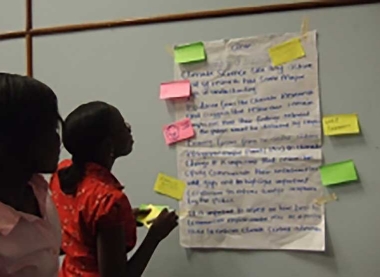 From 2005 to 2013, Gatsby funded the UK's Parliamentary Office of Science and Technology (POST) to run a project increasing the amount and quality of science and technology (S&T) information used in the Ugandan parliament.
At the start of the project POST undertook a baseline study to establish how effectively parliament was using S&T and potential areas for support. This involved analysing parliamentary debates and briefing papers, and surveying MPs and parliamentary staff. Subsequent activities included:
Pairing MPs with scientists through a scheme run with the Ugandan National Academy of Sciences (UNAS), with pairs engaging in joint activities ranging from examining legislation to broadcasting local radio programmes on energy efficient stoves;
Funding a Parliamentary Liaison Officer to work within UNAS and improve links between scientists and parliament;
Building parliamentary staff's skills to find, interpret and communicate scientific evidence by funding the International Network for the Availability of Scientific Publications (INASP) to run training workshops on topics such as finding reliable information on the internet.
The project raised the profile of S&T within parliament, which is now more aware of its needs. As a result, parliament employed two more scientists in its research division and established a peer review process for quality control of internal briefings.
POST leveraged additional funding from other donors to expand activities, while INASP and other organisations are building on POST's experience in Uganda to take forward their own, similar projects in other African countries.
The project closed in 2014, but sustainability was always a key concern, with POST building the capacity of UNAS and helping parliament institutionalise key elements of the programme to ensure activities continued beyond the end of the project.