David Sainsbury's parents, Robert and Lisa, began building their art collection in the 1930s. They rapidly became two of the UK's leading patrons of the arts, particularly notable for their championing and support of emerging artists – including Francis Bacon and Henry Moore.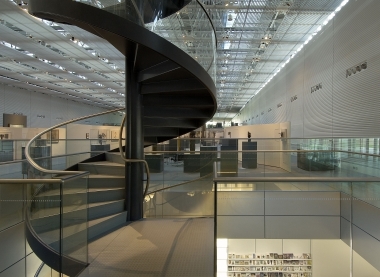 Robert was knighted for service to the arts in 1967, but he and Lisa felt they could do more to share their enjoyment of art and their particular passions. Therefore, in 1973 they gifted the University of East Anglia (UEA) their collection of several hundred paintings, drawings and sculptures - some up to 5,000 years old - from around the world.
The University required a new building to house the collection, and the Sainsburys wanted this to be as inspiring as the works within it. David and his father drove across the UK searching for evidence of an architect with the required vision and imagination, until they found the Olsen passenger terminal in London's docklands, designed by the-then relatively unknown Norman Foster.
The Sainsburys commissioned Foster and he designed the revolutionary Sainsbury Centre for Visual Arts. David, through Gatsby, helped fund its construction. Gatsby continues to support the Centre and two other institutions founded at UEA by Robert and Lisa: The Sainsbury Institute for the Study of Japanese Arts and Cultures; and The Sainsbury Research Unit for the Arts of Africa, Oceania and the Americas.
David and his wife Susie have the same commitment as Robert and Lisa to supporting young artists and making the arts available to all. As such, at Columbia University - where David studied for his MBA - Gatsby has helped fund the Arts Initiative, which aims to engage all students in the arts, regardless of which academic subjects they are studying.
Gatsby also funds the acclaimed Chamber Orchestra of Europe, which performs across the continent and allows young people and new audiences to experience live orchestra and chamber music through its education and outreach programme.
In addition, Susie is particularly committed to ensuring William Shakespeare's works remain at the heart of British cultural life. As such, Gatsby supports both the Royal Shakespeare Company's archive and its Artist Development Programme.
Gatsby also contributed £16m to the £113m redevelopment of the Royal Shakespeare Theatre in Stratford-upon-Avon, which reopened in 2011. Susie chaired the project committee, and in 2010 was awarded a CBE for services to the arts.
In the future, Gatsby will continue to support the organisations and initiatives it has built long relationships with, while occasionally funding new projects in harmony with the Trustees' passions and aims.