Arts
Programmes
Henry Moore Galleries
We supported Tate Britain to create two permanent galleries dedicated to the work of Henry Moore. A series of changing displays present Moore's sculptures and other works in a variety of contexts, drawing on Tate's collection, new acquisitions and loans.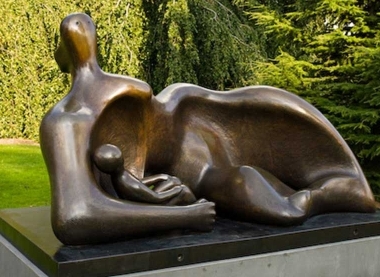 David Sainsbury's father Robert was one of Henry Moore's earliest champions at a time when the sculptor and artist was struggling to make an impact. Indeed, in 1933 Robert bought Moore's carving Mother and Child, and the £160 he paid was half Moore's income that year.
In the post-war years Moore became perhaps the most celebrated sculptor of his time, but later generations have not been as exposed to his work, mainly due to the lack of a substantial collection in London.
To introduce Moore to a new generation, in 2008 Gatsby funded the biggest outdoor exhibition of his work held in London, with 28 of his large-scale sculptures set across three acres of Kew Gardens. More than 600,000 people visited during the six months of the exhibition, with Gatsby funding used to give 150,000 free tickets to children and schools.
Since then, Gatsby has supported the first permanent galleries in London dedicated to the work of Henry Moore, which opened at Tate Britain on 14 May 2013. Two gallery spaces present around 30 works and focus on the story behind the Henry Moore collection at Tate and his large public commissions. The display includes film, photographs, maquettes, drawings and large-scale sculptures such as Recumbent Figure, 1938, the first to enter Tate's collection in 1939. In preparation, Tate renovated the galleries, with works including strengthening the floors so that they could support large sculptures.