We have a small team based in London and close to 200 people on the ground in East Africa working on our programmes and for institutions we have set-up.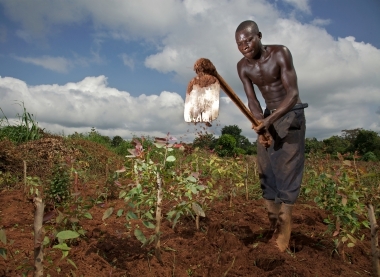 London
Peter Hesketh - Director of Gatsby
After a career of over twenty years with BAe Systems (formerly British Aerospace), Peter joined the Sainsbury Family Charitable Trusts in January 2002. Since 2008 he has been Director of the Gatsby Charitable Foundation, supporting and further developing Gatsby's specific range of interests and grant-making activities.
Justin Highstead - Executive Director of Africa Programmes
Justin has been with Gatsby for eight years, building and leading the Africa team and restructuring Gatsby's Africa portfolio. Justin previously spent five years with the Department for International Development as a Private Sector Development (PSD) Advisor, and five years as a management consultant with Accenture. He has extensive experience working across Africa and Asia, including two years as a Voluntary Service Overseas volunteer in Zambia. Justin specialises in innovative approaches to catalysing the growth of sectors, but has worked across most areas of PSD.
James Foster - Chief Programmes Director
James oversees all of Gatsby's sector programmes across Tanzania and Kenya. He also leads the Programmes Support Team, which supports sector teams to implement programmes and capture and share learning more effectively. Before his promotion in 2016 he oversaw Gatsby Africa's programmes in the Tanzanian cotton and textiles sectors, having previously worked on both forestry programmes. James joined Gatsby after three years running a Gatsby-funded programme with the Wood Foundation in the Tanzanian tea sector. Previously he had spent six years in Rwanda as a private sector development consultant and ODI Fellow in the Rwandan Ministry of Trade. Before working in East Africa, James took a Master's in Political Economy of Development at SOAS and worked at the UK Department of Trade & Industry and the Confederation of British Industry.
Lisa Curtis - Africa Programmes Director (Cotton & Textiles)
Lisa oversees Gatsby Africa's programmes in the Tanzanian cotton and textiles sectors, working closely with the two programme directors in-country. She joined the team in 2016 from DFID, where she spent the last four years developing new ways to catalyse private investment into difficult environments and frontier markets. Lisa has a background in corporate strategy, corporate finance and investment in developing countries, including four years based in Tanzania. She has an M.Phil in Social Anthropology from Oxford University.
Nikki Jeffery - Africa Operations Director
Nikki joined the team in February 2014 and is responsible for Gatsby's strategic operations – setting the direction and overseeing the effective management of operational systems across the portfolio. Nikki has over 14 years' senior management and leadership experience in international development and has worked extensively across sub-Saharan Africa and South Asia. In 2013 she was chosen as the Deloitte Specialist Fellow for the Clore Social Leadership Programme, in recognition of her financial and leadership skills and their contribution to delivering social change. Prior to joining Gatsby, Nikki was CEO of a UK-based global health charity and has previously worked with Christian Aid and the Big Issue. She originally trained as a Chartered Accountant with Deloitte in their London financial services practice. Nikki is currently on maternity leave.
Robert Jenkins - Africa Investment Director
Robert joined the team in March 2014. He has thirty years' private equity experience as a founding partner of Phildrew Ventures, which invested over 1 billion dollars across five funds and was acquired by UBS in 2000. For the last 10 years Robert has been involved in three main activities: working as a Director of Bridgepoint Capital with responsibility at board-level and to increase value across a portfolio of investments; assisting Jacana, a sub-Saharan African venture capital business, in every aspect of the investment process as a mentor and Investment Director in East Africa; and securing an MSc in Development Economics from the School of Oriental and African Studies. Robert has responsibility for Gatsby's MFI and venture capital investments and provides investment advice across the portfolio.
Lee Kirkham - Interim Africa Operations Director
Lee has joined the team to cover Nikki Jeffery's role during her maternity leave. He will lead on strategic operations throughout 2016. Lee is a specialist in institutional assessment and strengthening, with more than 27 years' experience in Africa. He has had management responsibilities spanning operations throughout sub-Saharan Africa, starting with Voluntary Service Overseas, before moving on to KPMG, the Commonwealth Development Corporation and Save the Children. Most recently he was based in Nairobi as the International Development Research Centre's Regional Controller for Eastern and Southern Africa.
Luke Potter - Director of Africa Programmes (Forestry & Tea)
Luke leads Gatsby's work in tea sectors in Tanzania and Rwanda, plus forestry sectors across the region. Luke has twelve years' professional experience, working in the private sector before transitioning into development. He joined Gatsby in 2015 after five years at TechnoServe as Country Director in Zambia and Zimbabwe, and as Regional Programme Manager on a dairy sector development project in East Africa. Before that Luke worked for four years at Unilever PLC and three years at research organisations covering the telecommunications, financial services and health sectors.
Neil Satchwell Smith - Director for Insights & Partnerships
Neil joined in 2016 in the new role of Director for Insights and Partnerships. He joined from DFID where he had worked for 11 years. At DFID his intitial roles included work in Zimbabwe and Zambia as a governance adviser looking at private sector development, public sector reform and political systems. He then moved to Vietnam as the Deputy Head and then Head of Office. Prior to DFID, Neil qualified as a Chartered Accountant with PwC and then worked in their Business Process Outsourcing Division. He has a master's in Governance and Development from the Institute of Development Studies.
Andrew Smith - Director of Africa Programmes (Msingi)
Andrew leads Gatsby's work developing an East African industry development organisation - Msingi. Prior to joining in 2012, Andrew had a 14-year career working with PricewaterhouseCoopers mostly focused on PSD in Africa and South Asia. During his time at PwC Andrew acted as Deputy Director for DFID's Business Innovation Facility, and Advisor to Sida's Innovation Against Poverty programme. Andrew led projects for the IDH Sustainable Trade Initiative and the Fairtrade Foundation, and helped private sector clients, including Coca-Cola and the Ethical Tea Partnership, seeking more inclusive business models.
David Boselie - Head of Monitoring, Evaluation and Learning
David has 20+ years' experience in global agri-supply chains. He joins from IDH where he was Senior Learning Manager, responsible for performance measurement and impact evaluation of agricultural commodity programmes. He has also worked as an applied researcher on producer support projects in the fairtrade and organic fresh fruit industries. David's PhD examined economic reform and agricultural diversification and commercialisation in Vietnam.
Mahmood Noman - Head of Human Resources
Mahmood joined in 2016 in the newly-created role of Head of HR. Mahmood is a Chartered Member of the Institute for Personnel and Development with more than 25 years' experience in HR roles in the UK, Bangladesh, Ghana and Malaysia. He began his career with the British Council before moving to EveryChild and the Commonwealth Secretariat. Most recently he was Head of People Strategies and Acting Director of People & Organisational Development at the international research organisation WorldFish. Mahmood has a BA in Business Studies, a Master's in Training & Human Resource Management, and a Master's in Education.
Arjun Bhoopal - Senior Programme Manager (Msingi)
Arjun joined in 2016 to support the establishment of a regional industry development organisation - Msingi. He is currently based in Nairobi. Arjun has 16 years' experience in private sector development and social impact across Asia, Africa, Europe and South America. In his last role he advised UNICEF on private sector strategy. Before that he was Head of Business Partnerships for Save the Children. He was a Private Sector Development and Sustainability Consultant for PwC for six years, with clients including DFID, Coca Cola and the Better Cotton Initiative. Arjun has a bachelor's in Engineering (Environmental) from the National University of Singapore and a master's with merit in International Studies and Diplomacy from SOAS.
Ben Gimson - Senior Programme Manager
Ben is working on the development of an East African innovation fund, having previously focused on sector analysis as part of Gatsby's programme development efforts. Prior to joining Gatsby in early 2013, Ben worked with Farm Africa, an agricultural development NGO operating in East Africa, and with impact investor Bridges Ventures on their Social Entrepreneurs Fund. Before that he spent three years at Aegis Advisory, advising a range of international corporates on their strategy and business risk in Africa and the Middle East. Ben also spent time working for then-Shadow Development Secretary Andrew Mitchell. He holds an MSc in International Relations and a BA in Philosophy, both from Bristol University.
Rafia Qureshi - Senior Manager, Impact & Learning
Rafia joined the team in November 2014 and is responsible for strategic impact and learning across the Africa portfolio. Prior to Gatsby, Rafia was at J.P. Morgan for six years where she managed the JPMorgan Chase Foundation's social investment programme in emerging markets and supported the development of the Foundation's broader strategic and operational development in Europe, Middle East and Africa. Before that, Rafia spent two years working with an international development consulting firm focusing on USAID and DFID-funded private sector development programmes. Her career began in the venture capital space working for Dow Jones Venture One, the venture capital research division of Dow Jones and DN Capital, a start-up venture capital firm in London. Rafia holds a BA in International Relations and Business Administration from Boston University and an MSc in Population and Development from the London School of Economics.
Raji Rajan - Senior Programme Manager (KMT)
Raji joined in 2016 to manage Gatsby Africa's partnership and support to Kenya Markets Trust and ensure shared learning. She will be based in London with regular travel to Kenya. Raji has worked in private sector development in Africa and Asia for eight years, designing and managing initiatives in business advocacy, mobile money and market development. She has extensive experience undertaking analysis, designing interventions, and managing multi-stakeholder groups and both technical and operational teams. Raji has a PhD in Economics and spent four years as a Lecturer and post-doctoral fellow at the University of Reading in the UK, where she continues to give annual lectures and seminars.
Jack Steege - Senior Programme Manager
Jack joined in 2013 as a programme manager for Gatsby's work in the East African forestry sector. Prior to joining, Jack worked as a consultant in a sustainability and climate change team at PwC. There he worked with a range of governments, donors, research institutions and businesses across the sub-Saharan African region on issues related to smallholder 'climate-smart agriculture', REDD+, and inclusive business model design. He has also lived in India, working with grassroot development organisations in the design and implementation of carbon financed rural energy projects. Jack has a master's in Carbon Management from Edinburgh University, and a degree in Economics from Newcastle University.
Quiller Brooke - Programme Manager - Knowledge
Quiller joined in 2016 from PwC where he spent six years developing innovative methods to measure and value impact. He began his career as an Environmental Manager in the Oil and Gas industry in Gabon and the DRC. He has also worked at the OECD in Paris on the design of markets for trading environmental services. Quiller has a bachelor's in Biological Sciences from Oxford University and a master's in Environmental, Resource and Development Economics from University College London.
Claire Nylander - Operations Manager
Claire joined in 2015 and is responsible for reviewing operating environments and strengthening systems within programmes and at HQ. After working as a certified accountant for six years, Claire joined a charity as a community accountant responsible for strengthening the finance systems of local charities. She then moved to the International HIV/AIDS Alliance, first building the finance capacity of programmes and partners across Africa, Asia and the Caribbean, and then managing the Alliance's risk, internal audit and compliance functions. She subsequently became International Finance Manager for Marie Stopes International in Africa before moving to Kuala Lumpur, Malaysia, to become Senior Business Manager for the Technical Support Facility - a project of the International Planned Parenthood Federation.
Judith Sequeira - Regional HR Manager
Judith joined in 2016 in a new role based in Dar es Salaam, Tanzania. Judith is a certified Senior Professional in HR. She has recently been working as an HR consultant, with roles at Helen Keller International and First National Bank in Tanzania, where she was Acting Head of HR. She was previously Head of HR at Helios Towers, where she set-up the HR department. Judith is a Registered Member of the HR Society of Tanzania. She has a master's in Criminal Justice and a bachelor's in Psychology from study in the USA.
Robert Unwin - Programme Manager (Forestry & Tea)
Robert joined in 2016 in a newly created position supporting Luke Potter and programme teams on Gatsby Africa's work in forestry and tea sectors across East Africa. Rob was previously a Strategy Manager at Monitor Deloitte, gaining eight years of public and private sector consulting experience, and leading teams on engagements spanning corporate strategy, mergers and acquisitions, and business transformation. To aid a career move into international development, he completed a master's in Development Studies at the School of Oriental and African Studies at the University of London. Rob also holds a master's in Physics from Oxford University.
Helene Lavaud - HR Officer
Helene joined in 2016 having worked in HR roles for six years. She joined from Hospice UK and previously held similar roles in the private sector, including at IBM. She has expertise in recruitment & selection, performance management, employee engagement, and diversity & inclusion. Helene is an Associate Member of the Chartered Institute of Professional Development and recently completed her master's degree in Human Resources from Westminster Business School.
Laura McDonald - Senior Administrator
Laura joined the team as Senior Administrator in June 2014. Prior to joining, Laura worked for five years at international development consultancy Maxwell Stamp providing administrative, financial and logistics support on international development projects, and working with donors including the Department for International Development and the World Bank. Laura has a degree in Criminology and Applied Psychology, as well as an introductory qualification in project management.
David McNicoll - Communications & Research Officer
David has been with Gatsby for seven years and is responsible for communicating its history, vision and progress in Africa, and capturing and sharing lessons learned that might benefit others. He also conducts research relating to existing and potential programmes. Prior to joining Gatsby, David worked on research across the Sainsbury Family Charitable Trusts (the operating office of the 18 trusts - including Gatsby - established by three generations of the Sainsbury family). Before that he wrote for a guide to financial law firms and interned on the sports desk of the Associated Press. David studied English Literature at Durham University and has a journalism qualification.
Hannah Thomson, Personal Assistant to the Executive Director of Africa Programmes
Hannah joined the team in 2016 in a newly created role supporting Justin Highstead on diary and travel management and coordination of Senior Management Team meetings. Hannah previously spent two years at the charity set-up by Sir Chris Hohn and Jamie Cooper - the Children's Investment Fund Foundation - where she was Executive Assistant to the Education Director and his team. She has extensive experience working for senior staff at a range of organisations, including KPMG, the law firm Hogan Lovells, and the Energy Saving Trust. Hannah has a bachelor's degree in Media Studies and a master's in Acting.
Claire Merryman, Team Administrator
Claire joined in 2016. She manages travel, payments and expenses as well as providing wider administrative support to the team. She has extensive experience of organising travel and managing safety and security - especially within high-risk countries - through her role as Travel Coordinator at Genesis Oil & Gas, an engineering consultancy focused on upstream oil and gas with more than 1,500 staff and offices in 17 locations worldwide. Most recently Claire worked in the Care & Support department at the Metropolitan housing association. She graduated in 2011 from Cardiff University with a degree in History.
On secondment
Olivia Elliot - Programme Manager
Olivia is currently based in Dar es Salaam on secondment to Gatsby's Tanzanian textiles programme, where she is leading policy research and assisting with investment promotion. She previously managed the feasibility study for an East Africa innovation fund. Before joining Gatsby in 2012, she worked at Monitor Group in Europe and Africa, including an extended period in Libya. She also spent a year working in Uganda for TechnoServe on the dairy sector. Olivia was a Deloitte Scholar and previously worked at Goldman Sachs, the Overseas Development Institute, the World Health Organisation in Geneva, and the United Nations Development Programme in Chernobyl, Ukraine. She has a degree in Philosophy, Politics and Economics from Oxford University and an MBA from I.E. Business School in Madrid.
Advisors
Laurence Cockcroft - Principal Advisor to Africa Programmes
Laurence is a development economist who has worked closely with Gatsby on its Africa programme since 1985. He has been responsible for the development of collaborative programmes between research institutes in the UK and Africa, Gatsby's Tanzanian cotton & textiles programme, and forestry initiatives in three East African states. Laurence has been particularly involved in building six local institutions founded by Gatsby across Africa, and is currently a board member of Kilimo and Tanzania Gatsby Trust. He is also a founder board member of Transparency International and was Chair of its UK chapter from 2000 to 2008.
Ademola (Demmy) Adesina - Advisor to Africa Programmes
Demmy is the Senior Executive for Business Development and Corporate Strategy at AQUIFER LIMITED – an investment company supported by Gatsby. He also works for Gatsby on private sector development activities in Africa. Demmy previously worked for the Rockefeller Foundation in New York, where he assisted in managing the Foundation's portfolio of programme-related investments. Earlier in his career he structured financial derivatives for JP Morgan's investment bank.