Africa
Focus Areas
Building Local Organisations
We have built and continue to support a number of independent organisations in East Africa dedicated to sector transformation. These are governed, managed and staffed by local people. The aim is to empower people who have the local knowledge, experience and networks necessary for success, while building long-term capacity within East Africa to drive sector change.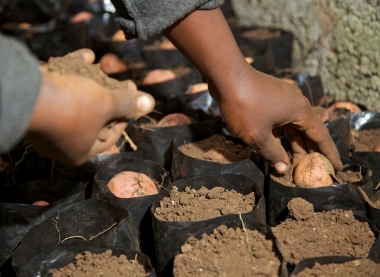 Sustainably transforming the performance of a sector - such as cotton - is a vast and complex undertaking that requires a long-term, holistic and adaptable approach. While Gatsby implements its own programmes in a number of sectors, we also want to build local East African capacity to transform sectors, scaling our impact and ensuring that this vital work can carry on long after Gatsby's involvement in the region ends.
As such, we have set-up and continue to support a number of independent organisations dedicated to sector development. These are governed, managed and staffed by local people.
The organisations include Kenya Markets Trust - which is working in the Kenyan dairy, water, agricultural inputs, seed and livestock sectors - and Gatsby's biggest ever undertaking in Africa – the set-up of Msingi, a regional industry development organisation that is catalysing innovation and growth in high-potential sectors across East Africa through technology transfer, capability building and investment.
Proactively and carefully building these local organisations will allow each to build in-house capabilities, learn from experience and ensure there are long-term platforms across the region with the knowledge, skills and networks needed to successfully drive sector programmes. They will also provide a focal point, playing a key role in the debate on the extent that markets are working for poor people across East Africa. In addition Gatsby and the local organisations will look to learn from each other in order to improve the effectiveness of all our programmes.
This work builds on Gatsby's experience of setting up and supporting numerous independent organisations across Africa over the past 25 years. Notable examples include Tanzania Gatsby Trust, East African agricultural grantmaker the Kilimo Trust, fund management company Pearl Capital Partners, and the Forestry Development Trust in Tanzania.