Africa
Latest
14/07 Impact of COVID-19 on East Africa - Recommended Reading
Each week we are sharing some of the interesting articles we've read recently on the impact of the COVID-19 crisis in East Africa.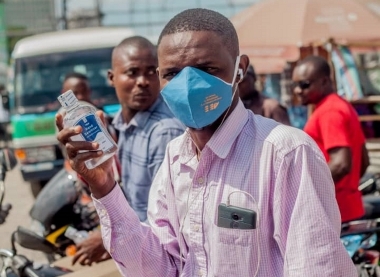 1 – BCG have published a short report - "East Africa's Rebound" - which explores the health and economic impact of the virus in the region and how firms should respond in order to survive (short-term) and "rebound stronger" (medium- / long-term).
Health impact of COVID-19 in East Africa
The true prevalence of the virus in the region remains unclear given testing constraints (e.g. 5K tests per 1M people in Rwanda vs. 12K tests in SA and 50K tests in USA).
Imported cases appear to be the major source of transmission, with clear implications for trade (e.g. truck drivers are responsible for 60% of cases in Uganda).
Since "it is uncertain how COVID-19 will progress in East Africa", businesses should expect "a prolonged period of uncertainty".
Economic impact of COVID-19 in East Africa
IMF has revised its forecasts for global GDP growth (from +3.4% to -3%) and EAC growth (from +6% to +1.8%). This picture may worsen - as total confirmed cases are up five-fold since these projections were made.
At a macro level, COVID-19 has impacted businesses in two distinct & related ways. There has been a global demand & supply shock – which puts $25.3B of exports in East Africa at risk (fewer tourists, loss in trade of agri-products, shortages of critical inputs in factories). In addition, disruption has been caused by local restrictions (e.g. school closures in Kenya have put 300K jobs at risk).
These macro-level impacts disproportionately affect SMEs as they tend to face greater liquidity constraints (in Uganda, 17% of micro firms can withstand this situation for 1+ year vs. 33.3% of small firms, 67.2% of medium firms & 90.5% of large firms).
Consumers are changing their behaviour (92% of urban Kenyans have delayed / reduced spending). Over next 6 months, spending will continue to shift towards necessities, economical brands and more cost-effective channels.
How firms should respond in order to survive
Workers & workplace – comply with safety protocols to prevent spread of COVID-19.
Cash & liquidity management – establish a cash office to manage inflows / outflows, monitor liquidity positions & secure financing.
Demand and supply stabilisation – to manage demand, adjust product / channel mix, assess pricing opportunities & lower cost to serve. To manage supply, work closely with suppliers, improve end-to-end planning & optimise logistics / distribution.
Data informed scenario planning – given trajectory is uncertain, maintain a dedicated COVID-19 response team up until the end of 2020.
How firms should respond in order to "rebound stronger" – and how government can help
Capitalise on shifting supply chain dynamics – future-proof supply chains by manufacturing locally what was previously imported / reorienting to benefit from global trade shifts. Governments should reduce barriers to regional trade and provide clear incentives for firms / investment in priority sectors.
Align portfolio with evolving customer needs – e.g. major regional airlines have repurposed passenger flights to transport cargo. Governments can support by providing liquidity to SMEs & implementing social protection measures to cushion household finances.
Invest in the digital customer experience – this is a "no regrets" move (e.g. 91% of urban consumers in Kenya are using digital banking more often & 78% expect to keep this up in the future). Governments can help by creating enabling conditions for digital business models (e.g. Rwanda's COVID-19 recovery plan includes increased spending on digital infrastructure).
Explore M&A opportunities to save, grow or extend the core – this may involve protection of less profitable but important firms (via nationalisation or privatisation); consolidation (in order to scale and reach regional market); or investing opportunistically in distressed assets. Governments can ensure fair / favourable conditions for deals (e.g. policies on foreign capital, priority sectors, improvements in finance / legal services ecosystem).
2 – The Center for Global Development hosted a panel event to discuss "Africa Beyond COVID-19", covering the unique ways the pandemic has affected Africa; silver linings; and what building back better could entail.
The event featured Bogolo Kenewendo (BK), Ken Opala (KO) & Nonso Obikili (NO).
What are unique ways that COVID-19 has affected Africa?
KO: the lack of state involvement in the everyday lives of citizens has made the impact harder to cushion – there's limited social protection mechanisms in place. In addition, governments don't have the fiscal space to respond to the crisis.
Is there a silver lining for Africa?
KO: Moving forward, countries on the continent could take advantage of global rejigging of supply chains – as firms diversify from China.
BK: since foreign direct investment (FDI) will fall away, this is an opportunity to stimulate more domestic investment; open up regional value chains; prioritise digital infrastructure & healthcare; and deliver government services more efficiently
NO: The pandemic has demonstrated the importance of cooperation in Africa (which will help when implementing AfCFTA). In addition, the crisis is presenting an opportunity for economic reform (e.g. various subsidies have been scrapped in Nigeria) and for reappraising social protection strategies (e.g. delivering welfare via mobile).
What might building back better entail?
NO: COVID-19 has demonstrated how much economic activity can take place remotely – speaks to importance of enhancing digital infrastructure.
KO: We should rethink our reliance on FDI – the crisis may force policymakers to reflect on how infrastructure projects add value to domestic producers. We should also get the basics right – water systems, roads, urban planning & support for agriculture.
BK: We need to look at business environment reform & how to encourage domestic investment (inc. accessing capital held offshore). We should also move away from being dependent on government expenditure as a source of growth – by pushing private sector development.
3 – Yanis Varoufakis - economist & former Finance Minister of Greece - recently spoke with the President of The Institute for New Economic Thinking about the relationship between the financial crash of 2008 and this year's pandemic.
Rather than as a separate phenomenon, Varoufakis considers our current economic crisis to be an escalation of the crisis 12 years ago, which left financialised capitalism "in dire straits".
Understanding the financial crash of 2008 and its aftermath
Varoufakis sees end of Bretton Woods in 80s as pivotal moment – when direct correspondence between the real economy and financial flows broke down (i.e. US could fund its growing trade deficit by recycling the profits of foreign countries through Wall Street).
In 2008, financialised capitalism came crashing down like a house of cards – governments in West responded by pumping liquidity into the financial system and engaging in austerity.
Following 2008, as financiers were given "free money" by governments, they did not lend to individuals (with shrinking incomes) but large corporations. CEOs – knowing demand was low among consumers – decided not to invest this capital in production but instead bought back shares (to boost the share price).
This is why financial markets have been thriving and the real economy has performed badly – a combination of high savings & low investment – resulting in deflationary forces
Understanding our current economic crisis
COVID-19 has pricked the financial bubble created by the response to the financial crash in 2008.
Any "New Deal" following the pandemic must use public money to shift idle liquidity (i.e. savings) into investment – to produce good quality jobs and enable green transition. Varoufakis's concern is that any such "New Deal" would depress asset prices and thereby result in the collapse of corporations (corporations need asset prices to remain artificially high – as these assets serve as the collateral for their cheap loans).
Question: The state is more powerful now – what reforms should we demand?
We should democratise capitalism and treat shares like library cards (i.e. one person, one vote, one share). When you leave a firm, you trade one library card for another. You could accumulate capital via bonuses (based on your performance rated by colleagues). This would bring an end to the stock exchange.
Question: How has this story played out in developing countries?
Following 2008, money pumped into the US economy by the Fed spilled over into developing countries (as financiers sought higher returns than what was available in the West). This created debt bubbles and opportunities for corruption.
Once the COVID-19 panic set in, this foreign capital was pulled from developing countries – effectively bursting these debt bubbles. Now IMF are being called in to assess.
Photo credit: African Enterprise International