Africa
Latest
15/09 Impact of COVID-19 on East Africa - Recommended Reading
Each week we are sharing some of the interesting articles we've read recently on the impact of the COVID-19 crisis in East Africa.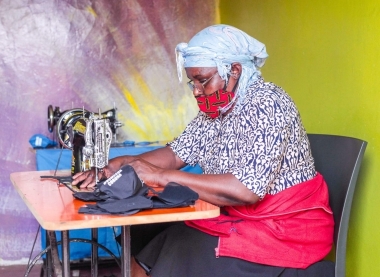 This week, we recommend the following three articles:
1 - The economic impact of COVID-19 on women in vulnerable sectors and economies. By Maria Liungman et al for the World Bank and World Trade Organisation.
Key points
Women are at risk of suffering more than men from the effects of COVID-19 pandemic on trade as women work in sectors and types of firms, such as tourism and textiles & apparel which have been particularly hard-hit by the pandemic.
A large share of firms owned or managed by women are micro, small and medium sized enterprises (MSMEs), with limited access to financial resources.
COVID-19 has impacted on existing gender inequalities, such as lower wages, fewer educational opportunities, limited access to finance, greater reliance on informal employment and social constraints.
Report Recommendations
The servicification of the economy: Services play important role in job creation, economic output, and trade. More than 60% of women are employed in the services sector.
Increase women's capacity to engage in international trade: For women to take advantage of trade opportunities requires investments in education, health, access to capital and information.
Ensure that vulnerable women are not left behind: As governments elaborate trade policy, it is important to ensure that vulnerable segments of women are not left behind.
2 - Modelling the Manufacturing Process for COVID-19 Vaccines. By David Reader et al at the Center for Global Development.
Researchers across the world are working hard to produce a vaccine for COVID-19. To generate a better understanding, CGD is conducting research for building a tool to predict how long it could take to produce the vaccine to meet global demand. The process of modelling vaccines R&D is in three stages.
R&D and clinical trials
The process involves interviewing experts in vaccine development and manufacturing to collect information on funding and on plausible timelines. They then use the Monte Carlo simulation model to estimate timelines and numbers of vaccines that could be approved.
Manufacturing and implementation
This part of the model aims to estimate the time required after a vaccine has been approved before commercial manufacture can begin. The transition from R&D to manufacturing involves many factors - such as type of vaccine and dosage form, manufacturing location and supply markets - that affect how long each step takes.
Manufacturing capacity
The primary output from the overall model is an understanding of when global vaccine demand may be met. It is intended to collect global capability for primary and secondary manufacturing and compare those figures with the WHO targets.
Usage and next steps
The aim is to understand when vaccines would be widely available to the patient population. The article emphasises collective understanding of the process and challenges to better identify potential gaps.
3 - Evaluating Kenya's youth job scheme. By Senior Economics Writer Mark Kapchanga.
Kapchanga evaluates the impact of the Kenyan youth job scheme - Kazi Mtaani - launched in early June to address unemployment amongst youth due to COVID-19.
The KSh 10 billion ($100 million) program targeted 270,000 youths, each receiving KSh 455 ($4.55) daily and engaged in community development projects.
These efforts appear to be having a positive impact on the lives of some vulnerable Kenyans. For example, Michael Okoth, 33, from Dandora slums in Nairobi, lost his job as a school bus driver when coronavirus struck, and used the KSh 2,275 ($22.75) payment from a Kazi Mtaani job, to pay for family's needs.
Despite the positive results of the initiative, there are concerns. On 23 July and 5 August, youths employed under the Kazi Mtaani programme in Kiambu and Rift Valley Counties protested over delayed and low payments. Critics of the plan have said there is also no clear roadmap.
Deputy President William Ruto has challenged youths not to depend on formal employment, but to find ways to create employment for themselves during the crisis.