Africa
Programmes
Push-Pull
We funded the research partnership which developed this innovative and natural science-based technology which protects maize from attacks by the parasitic weed Striga and stemborer moths that devastate the crops of smallholder farmers across Africa.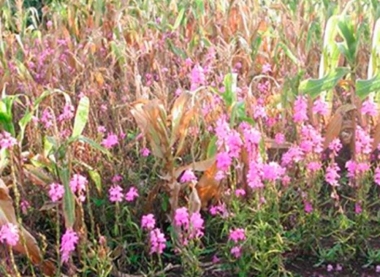 Maize is the staple crop for millions of smallholder farmers in East Africa. However, it is vulnerable to attacks from the parasitic weed Striga - which penetrates the maize plant's roots, sucking water and nutrients from its host and stunting its growth - and stemborer moths, whose larvae feed on maize leaves before boring into the plant's stem and eating it from the inside. Estimates suggest eliminating Striga could save the region $437m a year, while preventing crop losses to stemborers could increase the harvest enough to feed 27 million more people in the region.
In 1993 Gatsby began funding a partnership between two agricultural research institutes to develop innovative solutions for the problems afflicting maize in East Africa. The International Centre of Insect Physiology & Ecology (ICIPE) and Rothamsted Research found that different plants produce different chemicals which can either drive stemborer moths away or draw them in. Experimenting with this "push-pull" approach, researchers found that intercropping the forage leaf Desmodium with maize was particularly effective as the push element, while a border crop of Napier grass worked well as the pull aspect.
Adoption of the push-pull technology also provides additional groundcover which helps with soil and water conservation, increasing fertility and thus yields. Both desmodium and Napier can be used as fodder for livestock, which enables farmers to start or expand dairy production and use additional organic manure to reduce dependence on expensive fertilisers.
Gatsby and the Gatsby-founded Kilimo Trust have funded subsequent ICIPE programmes to disseminate the technology. ICIPE has formed partnerships with national bodies, creating a multi-pronged extension system, and has worked with farmers to adapt the push-pull model for various agro-ecological conditions across the region and different crops including sorghum.
By 2009, more than 30,000 farmers in Kenya, Uganda and Tanzania had adopted push-pull. On average farmers adopting the technology increase their maize yields by 250-300%. The economic benefit of push-pull is estimated at $2-3m annually, translating to approximately $100 per family per year.
Push-pull is one of four key technologies for combating Striga being evaluated in a new four-year, $6.7m Gates Foundation programme across Western Kenya and Nigeria.