Education
Latest
Access to Science awards ceremony
On Wednesday 13 October 2015, 25 exceptional Access to Science students from across the UK received national recognition from the Royal Society of Chemistry (RSC), at its Burlington House headquarters in London.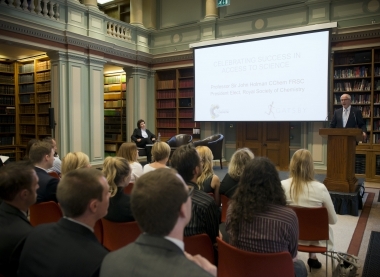 At the event 25 Access to Science course students were formally conferred with Registered Science Technician (RSciTech) status. This award recognised students who, through their employer-led projects, gained particularly high levels of professional skills and knowledge and met competencies judged by RSC assessors.
Olivia Fitzgerald, one of the students who was awarded RSciTech, looks back on her time during the programme with a great sense of pride and achievement, "I firmly believe the skills I have learnt through the programme will benefit me greatly in my future career. To hold an accredited status is a wonderful accomplishment and a reflection of the skills we have amassed throughout the programme".
Sir John Holman, Royal Society of Chemistry President Elect, said: "The UK science sector needs more skilled technicians. At the Royal Society of Chemistry we are committed to helping close this skills gap by supporting vocational routes into science and connecting education and employers.
"The Access to Higher Education Diploma and RSciTech scheme is a great example of this. I congratulate all the students on the dedication they have shown in their industry projects, and the investment they have made in their futures through gaining RSciTech status."
Students from Havering College in Essex created a video showing their time working in industry: https://youtu.be/OgI_BUJiai8
Visit our professional registration for technicians page for more details on our work supporting professional registration.
Visit our providing technical education page to find out more about our support for other initiatives in technical education.