Plant Science
About
About
Plant science has never been more important. Some of the greatest challenges posed by population growth and climate change can only be met in the context of a strong fundamental understanding of plant biology and ecology, and translation of this knowledge into field-based solutions.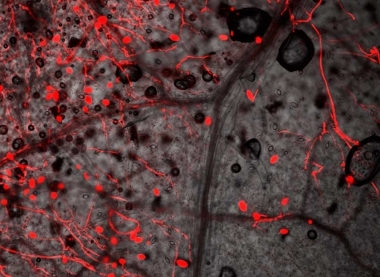 Gatsby's interest in plant science dates back to the 1980s and our commitment to this area continues to grow. Our aim is to support the best fundamental plant science research in the UK, particularly in the areas of pathology and development.
The best research requires the best researchers and state-of-the art facilities. For three decades, we have provided core funding for The Sainsbury Laboratory in Norwich, where the combined efforts of about 80 staff have established a world-leading institution making fundamental discoveries about plants and how they interact with microbes and viruses.
More recently, Gatsby committed £89 million to the construction of a new plant sciences research laboratory within the grounds of the Cambridge University Botanic Garden. The Sainsbury Laboratory Cambridge University, which opened in 2011, and is becoming a global centre of excellence for plant science research, focusing in particular on plant development and its computational modelling. We are providing significant core funding to the Laboratory, which houses about 150 of the world's best plant scientists and support staff.
People are at the heart of our plant science programme, and we aim to nurture, sustain and increase the supply of high quality researchers in plant biology. Each year a small number of exceptional postgraduates and undergraduates receive studentships from Gatsby to work in some of the UK's outstanding plant science institutions. In addition, we award ad hoc grants to researchers whose work needs additional support from a funder prepared to take risks in order for potential breakthroughs to be realised.
Undergraduates are also the focus of the annual Gatsby Plant Science Summer School – an exceptional experience for top bioscience students at the end of their first year of study. During this week-long residential they attend lectures from internationally renowned plant scientists, take part in challenging practical sessions, and receive careers advice from individuals whose background in plant science has put them ahead of the game in professions within and beyond science.
Plant science has become less visible in schools and universities due to the expansion of the biosciences and rapid developments in contemporary biology. Teachers and educators need support and ideas so that they can pass their knowledge and enthusiasm on to their students. We make relevant and useful teaching resources - from fundamental plant biology through to current plant science news - freely available to teachers and students across the UK through the Science and Plants for Schools programme.
We are assisted in our Plant Science programmes by Dr Roger Freedman and a Scientific Advisory Panel comprising:
Professor Jane Langdale CBE FRS, University of Oxford
Professor Liam Dolan FRS, University of Oxford
Dr Eirini Kaiserli, University of Glasgow
Professor Steven Spoel, University of Edinburgh
Professor Nick Talbot FRS FRSB, Sainsbury Laboratory (Norwich)