Education
Latest
Further Education Colleges and Innovation - New Report
Today (9th October) Gatsby has published a new report by Elaine Baxter, former head of the Innovation Lab at Procter & Gamble, to better understand the role that colleges in England play in supporting innovation in their local areas.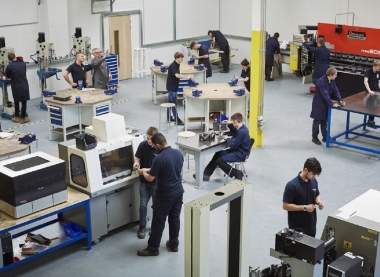 Gatsby has long championed the role that Further Education (FE) plays in contributing to the nation's prosperity. The training that FE can offer enables the development of emerging skills which in turn will allow firms to make the best use of new technologies. FE also supports firms, particularly SMEs, to introduce new technology, processes, or products. This new report, Further Education Colleges and Innovation, provides deeper insight into how this unique, important, but sometimes undervalued, role works in practice.
The report, a short, qualitative study of a selection of colleges in England, offers intelligence on the extent to which these colleges are supporting innovation in their local areas. When asked about their role in innovation, colleges' first thoughts are often around innovation in the curriculum or teaching. Elaine found however, that many colleges are also working with employers to drive innovation in the workplace, which in turn leads to increasing innovation in the colleges. For example:
Bishop Burton College is looking at how big data can be shared with farmers to increase the use of precision farming in the local area. By mapping the variability within fields, farmers can ensure better targeted crop nutrient and pesticide application.
Fareham College has built a state-of-the-art training facility for a range of engineering disciplines which is co-located with the Fareham Innovation Centre. Companies are happy to offer the college expert presentations and in return they have access to equipment such as 3D printing that they can use for prototyping.
With current concerns around automation and AI, innovation may be seen as a threat to jobs. However, there is a strong argument that innovation can also drive up the skills requirements and quality of many existing jobs. By engaging with employers to improve innovation, colleges can help to secure high quality employment in their area as well as driving up the demand for higher skills.
There are of course wider benefits of engaging local businesses with colleges, not least around the supply of industry placements, maintaining currency of the curriculum, and potential loan of industry-grade equipment and exchange of staff.
Recognising the role that colleges can play in the diffusion of R&D will be critical to the levelling-up agenda and supporting SMEs to take advantage of the UK's world class research base. For colleges to become part of the innovation engine, a greater focus on innovation being part of their raison d'etre, rather than a nice to have, is what is required.