Education
Latest
Gatsby's response to Government's Recruitment and Retention Strategy
The Gatsby Foundation warmly welcomes today's announcement by the Department for Education of a new clear and coherent strategy to tackle teacher shortages and the shift in focus to teacher retention rather than simply teacher recruitment.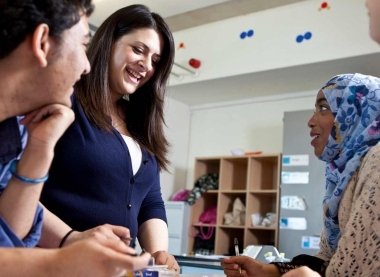 Gatsby commissioned research, referenced in the strategy, revealed that there is strong evidence that early career financial incentives do have a measurable impact on the retention of shortage-subject teachers, particularly in the case of early-year physics and maths teachers who are faced with better paid opportunities outside the profession.
In our 2018 report, What Happens When You Pay Shortage-Subject Teachers More Money: Simulating the Effect of Early-Career Salary Supplements On Teacher Supply in England, findings showed that paying early-year maths and science teachers a 5% salary supplement would have eliminated the maths and science teacher shortage, and would have done so at a significantly lower cost to government than recruiting a sufficient number of new teachers, even if that could have been done.
As such, the changes in the way bursaries are used to recruit and retain teachers appears to be a sustainable and effective course of action. We also welcome the Early Careers framework, which will give new teachers an additional year of the of the kind of professional support they currently only receive in their first year. Our own research has shown that initiatives including mentoring are key to not only raising teacher retainment, but also the quality of teaching in schools.
Sir John Holman, senior adviser, Gatsby, said: 'Ensuring a supply of high-quality, experienced teachers should be a priority for education policy-makers so we are delighted that the government is taking the recruitment and retention of teachers seriously. It is vital we have enough teachers to ensure a robust science and maths education for all, irrespective of background or economic circumstance. However, this welcome start is just a beginning, given the scale of the challenge.'
Jenni French, programme manager, Gatsby, said: 'Gatsby welcomes the government announcement of phased bursaries for new teachers. It is simply not possible for government to recruit enough physics teachers to fill all the vacancies, so retention of those already in the classroom is vital. Our research has shown that providing financial supplements for early career teachers could have a significant effect on the number of specialist teachers in the classroom.'
To read the Government strategy in full, please click here
To read more about Gatsby's Teacher Recruitment, Retention and Development programme, please click here.
For further information, please contact:
Lauren Golding, Communications Officer, Gatsby
Lauren.golding@gatsby.org.uk