Education
Latest
Launch of the Good Practical Science report
On September 26 2017, we launched the Good Practical Report by Sir John Holman which outlines ten benchmarks to transform practical science education in England.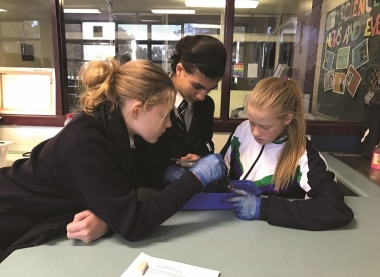 The Good Practical Science report details recommendations to help secondary schools achieve world-class science education. The report also include recommendations for those that can impact on the wider education system in which a school operates, namely: teacher trainers, policymakers, Ofsted, government, teaching unions, professional bodies, and Ofqual.
Looking at more than 400 secondary schools in England to gauge the status of practical science, the report involved visits to world-leading nations including Finland, Germany and Singapore to learn what was done differently internationally.

Commenting on the launch, Sir John Holman said:
"Time and time again we have seen that practical science is key not only for learning, but also for inspiring the next generation of scientists, engineers and technicians. The benchmarks presented in this report reflect world-leading standards and we hope to empower our teachers by giving them the tools to include practical science in a greater proportion of their lessons."
Paula Bull, science teacher at Westminster Academy in London, said:
"Hands-on practical work is an essential part of science learning. As a parent and science teacher, I have always recognised and promoted the value of practical science in schools. That's why I would recommend the Good Practical Science report as a vital addition for all science teachers in the UK. This report, and the benchmarks it outlines, should be invaluable for school leaders, science teachers, technicians and everybody with a stake in science education.
"In particular, I'm delighted to see the report highlight that practical science is as highly regarded as ever. I hope it can spur schools on to continue developing their science teaching practise, so that they can continue to build skills and attitudes that are so valuable for young people."
Visit the Good Practical Science programme page for more information and to download the full report.