Education
Latest
Lord Sainsbury receives Lord Dearing Lifetime Achievement Award
At the 2016 Times Higher Education (THE) Awards, Lord Sainsbury, Settlor of Gatsby, received the Lord Dearing Lifetime Achievement Award.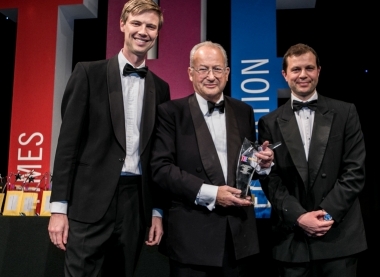 The award is in recognition of Lord Sainsbury's decades of support and contribution to higher education (HE) in this country.
Sir Steve Smith, vice-chancellor of the University of Exeter, describes the impact he had on the national research base as "transformational".
"Lord Sainsbury was without doubt the most effective and supportive science minister for a generation. Not only was he completely committed to supporting the UK science base both in actions and in words, but he was directly responsible for two major developments.
"First was the 10-year science investment framework, announced in 2004, which increased by £1 billion a year the amount spent on the science base.
"Second, he produced the definitive statement of the role and contribution of the research base to the future of the UK. His report, The Race to the Top, is a stunningly impressive account of how research supports society and the economy. It remains as relevant today as it was when he authored it. He is a most deserving winner of this award: our research base has never had a better friend, and colleagues in all subjects from anthropology to zoology owe him their thanks."
Whilst this award is primarily in recognition of his support of HE and research, Lord Sainsbury used the opportunity to champion technicial education. You can read more about the Independent Panel Review of Technicial Education, chaired by Lord Sainsbury, here.