Education
Latest
New case studies describe benefits from T Level Industry Placements for businesses, colleges and students
Gatsby has released a new video series highlighting the benefits of industry placements to business and students.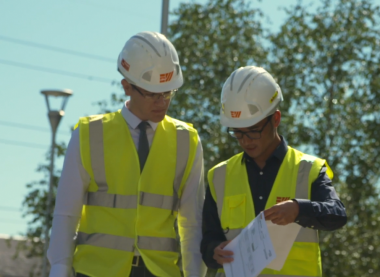 The videos – created with employers, providers and students currently involved in placements - share participants' experiences and demonstrate that industry placements can be beneficial to the individual students on the industry placement as well as the business hosting them.
Industry placements of at least 315 hours will be a key component of T Level programmes. Providers who will be offering the new courses from 2020 and 2021 are in the process of building capacity to support extended placements by using the Capacity and Delivery Fund to work with employers.
Employers featured in the videos are supporting these early industry placements and speak of the many ways they have already benefitted from participation.
Head of Social Value at Willmott Dixon Construction, Jayne Greaves, says that it gives her staff a good sense of fulfilment from putting something back into the community when they help local students work towards their professional goals. Meanwhile, others state that hosting placements has helped them appreciate the types of support that young people with limited experience of the workplace might need in order to become valued members of the business.
Access to youthful perspectives on current work have been said to also benefit strategic planning decisions by highlighting the interests and priorities of the next generation of both employees and customers.
Industry placements have been designed to give students the opportunity to demonstrate that they can use the knowledge and skills they have learnt in the classroom in employment and this increases their chances of getting a good job at the end of the T Level. The students featured mentioned many benefits from taking part in the placement, such as developing their technical knowledge and skills, a sense of improving their employability skills and gaining access to future opportunities. As seen in the series, students report learning new skills at this stage of their lives - such as organisation, a greater sense of responsibility, increased confidence and better communication skills - will give them an advantage when applying for jobs later.
The examples collected help show that not only can the placement help young students develop skills and learn about business environments, but it also allows the business to learn new and beneficial things from students.
To watch the videos and learn more about industry placements, visit the website www.improvingtechnicaleducation.org.uk/introducing-t-levels which will be updated regularly with fresh case studies and further examples of T Level implementation in practice.