Education
Latest
Report reveals schools making headway towards Gatsby Career benchmarks
State of the Nation 2017, a report released today from the Careers and Enterprise Company has revealed that schools are making progress towards achieving good career guidance, as measured against the Gatsby benchmarks.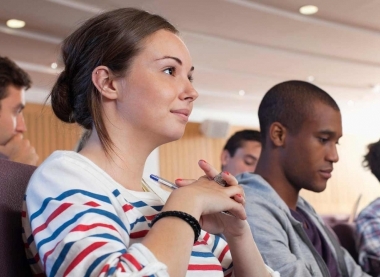 In 2014, we released 'Good Career Guidance', a set of eight internationally recognised benchmarks developed by Sir John Holman to assess career provision in schools. Almost 600 schools in England have now taken part in new research using 'Compass' - a tool developed by the Careers and Enterprise Company which enables schools to anonymously evaluate how well they are doing against the Gatsby benchmarks.
When we first published the benchmarks, the best schools were only achieving five of the eight benchmarks, but research has revealed that top marks in career provision is possible, with the highest achieving schools meeting six, seven and eight of the benchmarks.
Implementation of the Gatsby benchmarks has also been tested comprehensively over the last two years in a pilot with 16 schools and colleges throughout north east England with very successful results. Every school and college in the pilot now achieves at least four benchmarks, where previously 50% of schools and colleges in the region fully achieved none.
Although the data reveals a positive outlook, there is still much more to be done, as some schools are not yet in a position where clear strategy on career provision has been embedded.
Sir John Holman, advisor to Gatsby Charitable Foundation who developed the Gatsby Benchmarks said: "Soon after we published the Gatsby benchmarks in 2014, we began to hear from schools who were using the Benchmarks and wanted to know how they measured up against them. This is how the idea of Compass was born - a self-evaluation tool for schools to measure themselves anonymously against the Gatsby Benchmarks. It's great to see the progress that schools using Compass are making, and especially good that schools in the most challenging circumstances are on a level playing field with more advantaged schools when it comes to achieving good career guidance."
Claudia Harris, CEO at the Careers and Enterprise Company said: "We were delighted to collaborate with the Gatsby Foundation to develop the Compass tool. The tool allows schools to diagnose their individual performance against the Gatsby benchmarks, track performance over time, pinpoint areas of need and improve careers support to young people.
"At an aggregate level this data creates a national baseline from which we can track improvement over time, identify national areas of need and understand drivers of best practice. Although the research confirms a challenging baseline, we see improvements from 2014 and most importantly the report lays out a path to success based on those schools that are performing well against the benchmarks. We will repeat this publication on an annual basis. We believe this national project will help improve careers support in England, ensuring that young people have flourishing futures and strengthening our economy."

North East LEP's national facilitator for the Career Benchmarks Pilot, Ryan Gibson said: "Today's report underlines how critical strong careers and enterprise provision is to opening up careers choices to young people and helping our economy flourish. We look forward to continuing to play such a central part in this agenda, firmly putting the north East on the map as an exemplar in career guidance."
For more information on schools in the North East are working towards the benchmarks, visit our good career guidance microsite for teachers.