Education
Latest
School Science Technicians Celebrated at Salters' Institute Annual Awards Ceremony
The Awards aim to highlight the importance of technicians in enabling high quality practical work in science.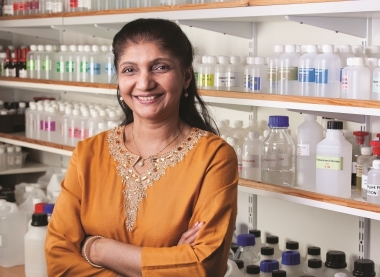 In October 2018, The Salters' Institute, with support from Gatsby, hosted a Technicians Conference which brought together school and college science technicians (including previous Salters' Technicians Award winners) to network and share good practice. Following an introduction by Sir John Holman, technicians took part in discussions exploring Gatsby's Good Practical Science report and how they could continue to support delivery of excellent practical science in their schools and colleges.
The Salters' Institute Annual Awards Ceremony 2018 took place today (7 December 2018) and the science technicians of the year were announced as:
Tamara Jowhire, Rhoda Schofield & Victoria Webb - Moseley School and Sixth Form
Chris Corio, Michelle Waters & Jenny Wood - Queensmead School
Joshua Lee & Jane Withers - St Michael's C of E High School
Rachael Connall - Thornton College
To honour the occasion, Dr Kay Stephenson, Chairman of the Awards, explained the origins of the Awards and why this year's winners were chosen:
"If the UK is to remain a world-leading knowledge economy, it needs people with skills in science, technology, engineering and maths (STEM). Delivering the scientists and technicians of the future means starting young, in schools, and inspiring young people to want to take science further."
"The Salters' Company, one of the ancient London livery companies, founded the Salters' Institute in 1918 to support the UK chemical industry by helping returning servicemen to study chemistry."
"Today, the Salters' Institute continues the mission by working with schools to help them inspire their young people to continue with science. The Institute does this through a range of programmes including innovative science curriculum development, exciting and engaging hands-on chemistry events and awards for excellence across many fields of science education."
"Practical work is at the heart of the Institute's activities and, in 2002, the Salters' National Awards for Science Technicians were launched in order to highlight the valuable role science technicians play in enabling high quality practical work to take place in schools."
"The 2018 Technician Award winners were selected because we felt they exemplify the positive impact that can be achieved when teachers and technicians have a shared understanding of the purpose of practical work and its effect on students' experiences of science. Our 2018 award-winning technician teams (which includes one 'sole' technician) are all held to be integral to the success of science in their schools; valued and respected by colleagues and students alike."
"As would be recognised by all good science technicians, their contributions are numerous and wide-ranging … from behind-the-scenes tasks vital to the efficient day-day provision of varied and manageable practical activities … to more visible engagement in lessons and enhancement events."
"Examples include: checking and refining practical activities; trialling new ideas and equipment; co-running Science (or STEM) clubs; and adapting practical activities and equipment to better suit students with special educational needs and disabilities (SEND)."
"What shines through about all Salters' Technician Award winners (current and past) is their own passion for science and desire to further develop and then share their knowledge and expertise to help improve students' learning and interest in science."
Many congratulations to all of this year's winners for all that they do to inspire their students through outstanding practical work in science.