Education
Latest
STEM education and the UK's technician workforce - our latest overviews
Our latest two leaflets provide useful snapshots on areas that we are truly passionate about - STEM education and the UK's technician workforce.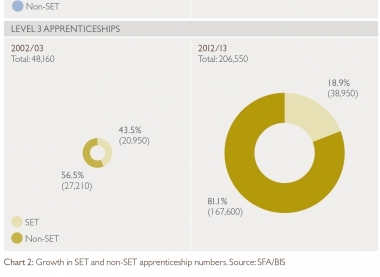 Key Indicators in STEM Education highlights the trends in the number of people choosing science and maths at GCSE, A-Level and undergraduate level, as well as data on apprenticeship uptake and teacher supply. In the Gatsby office we find these are the datasets we reach for most frequently when discussing education policy but, since we hope to update this leaflet on an annual basis, we would welcome suggestions for other indicators you feel could be helpfully included in future.
The second leaflet, Our Work Supporting Technicians, gives an overview of the work we are involved in to address the acute shortage of technicians – those people equipped with the specialist, practical STEM skills that underpin some of the most successful and high-growth sectors of the UK economy. An aging workforce means that 50,000 of some of our best technicians are now retiring every year while, in some of the fastest growing sectors, employers already say their businesses are being held back by a lack of technicians in the labour market. If the UK is to remain competitive, we must establish a system of technical education that can provide business with a world-class cadre of technicians, and young people with a clear route from education and into high-skilled, fulfilling technician occupations. The challenges are far from trivial and change cannot be brought about quickly. But at Gatsby we are committed to working with partners to seek innovative and sustainable solutions that work for the long term.
If you would like hard copies of the leaflets, email faye.riley@gatsby.org.uk