Education
Latest
Technicians Make it Happen at New Scientist Live
Technicians Make it Happen joined 119 other exhibitors and hundreds of speakers, at New Scientist Live – a four-day celebration of ideas and discovery from 22-25 September. With an estimated 20,000 visitors, the festival at ExCeL London highlighted some of the latest innovations in science, technology and engineering.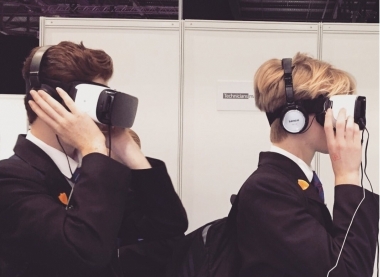 The Technicians Make it Happen stand shined a light on the talented technicians working in this country, the huge variety of roles that they undertake and the exceptional companies that they work for.
From stories of Pharmaceutical Technicians, who create vital drugs for the NHS, to Sports Research Technicians who are integral to the UK's best sporting innovations, Technicians Make it Happen showcased how technicians drive our economy, help shape our culture and improve our lives.
Samsung Gear headsets on the stand allowed people to experience a unique virtual exhibition of technician portraits and aretefacts at the Mall Galleries. Visitors to the virtual reality exhibition saw the technician portraits 'come to life' through embedded videos of the technicians at work.
To raise awareness of industry's hidden heroes Technicians Make it Happen also asked the public to get involved and share images on social media of what they think technicians make happen, whilst using the hashtag #techniciansmakeithappen.
This amazing event would not have been possible without technicians. Visit www.technicians.org.uk, or follow the campaign on social media using the hashtag #techniciansmakeithappen.