Education
Latest
Technicians: The David Sainsbury Gallery
Today (30th September 2021) the Science Museum have announced their newest interactive gallery, funded by the Gatsby Foundation, which will celebrate the vital, but often hidden role, of technicians.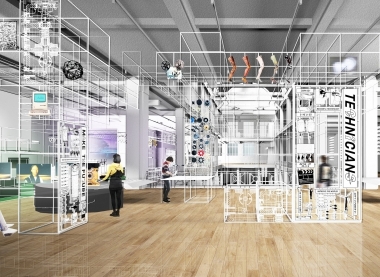 This free gallery, which is aimed at 11 to 16-year-olds, will feature a wide variety of technician roles and allow people to explore where technicians work, hear their stories and meet real-life technicians leading activities within the space.
Visitors will be able to put themselves in a technician's shoes with interactive exhibits, such as operating a manufacturing robot, creating visual effects on a blockbuster film set, fixing a wind turbine fault and analysing medicines in a laboratory.
Currently, only a quarter of 13-16 year-olds believe that technician roles are good jobs according to an April 2021. This gallery will address this issue by offering a career-focused space for young people, where they can imagine themselves as technicians, engage with people whose technical jobs are keeping industries moving and discover the difference technicians make in many walks of life. The gallery will also explore the varied pathways to become a technician, including through new T-levels qualifications, and a new website will allow the career-focused activities of the gallery to reach young people across the country.
Lord David Sainsbury, settlor of the Gatsby Foundation, said:
'The decision about what career we want to pursue is one of the most important of our lives, and if we are to make the best decision, we need to know what type of jobs are available, and what are the educational routes which underpin them. The roles celebrated in this new Gallery demonstrate that being a technician can be a gateway to social mobility and personal fulfilment for the individual, and offer a chance to play a meaningful part in the prosperity and welfare of the country.'
Sir Ian Blatchford, Director and Chief Executive of the Science Museum Group, said:
'Technicians are long overdue their time in the spotlight, as one of the country's most vital teams, driving economic growth in an amazing range of sectors. In generating excitement among 11-16 year-olds about technical roles, and challenging out-dated perceptions, this interactive gallery encapsulates our core mission of inspiring futures.'
The Secretary of State for the Department of Culture, Media, and Sport, Nadine Dorries, said:
'It is so important that young people are able to make genuine choices about their careers, no matter what path they choose to go down. We want to increase people's access to well-paid, technical jobs as part of our plans to level-up. This brilliant gallery in the Science Museum will help bring to light many of the fascinating technician jobs that exist and I hope inspire young people from all walks of life to consider a future career in this area.'