Education
Programmes
Piloting the Good Career Guidance benchmarks
To test the eight benchmarks identified in the Good Career Guidance Report and collect evidence on the impact of the framework, Gatsby funded the North East Local Enterprise Partnership to run a Good Career Guidance Benchmarks Pilot across 13 state-funded secondary schools and 3 colleges in the UK.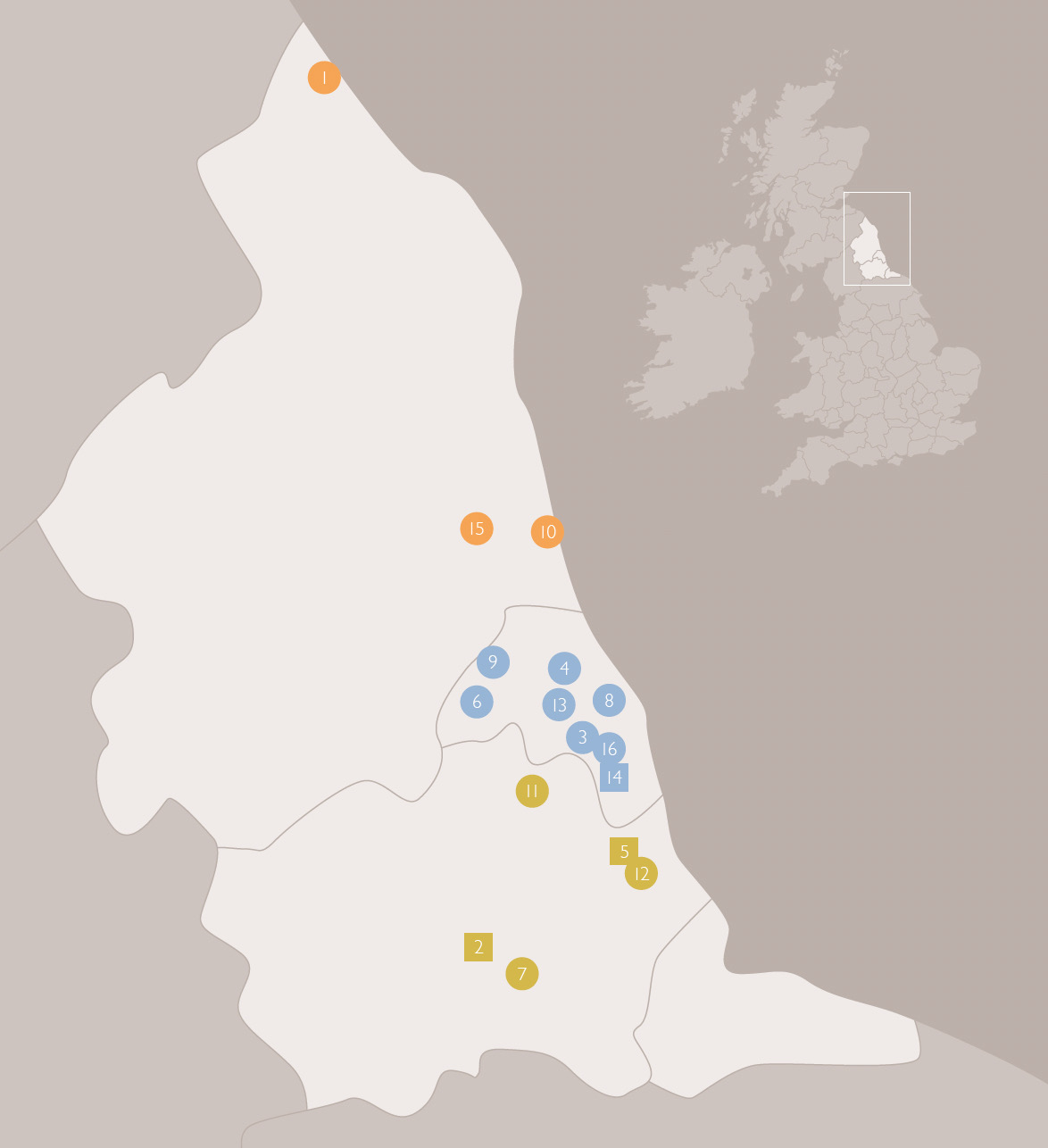 The schools and colleges in the Gatsby Good Career Guidance Benchmarks pilot are:
1. Berwick Academy, Berwick
2. Bishop Auckland College, Bishop Auckland
3. Castle View Enterprise Academy, Sunderland
4. Churchill Community College, Wallsend
5. East Durham College, Peterlee
6. Excelsior Academy, Newcastle
7. Greenfield Community College, Newton Aycliffe
8. Harton Academy, South Shields
9. Kenton School, Newcastle
10. Northumberland CoE Academy, Ashington
11. Park View School, Chester le Street
12. Shotton Hall Academy, Peterlee
13. St Joseph's Catholic Academy, Hebburn
14. Sunderland College, Sunderland
15. The King Edward VI School, Morpeth
16. The Link School, Sunderland
Circle = Secondary School
Square = Further Education College
The government have released a new careers strategy, which Gatsby welcomes. Our full statement can be found here.
After the publication of Sir John Holman's Good Career Guidance Report, which identified eight good practice benchmarks, we began working with the North East Local Enterprise Partnership (North East LEP) to pilot the framework in 16 schools and colleges (including an outstanding school and a pupil referral unit). The pilot challenged the 16 institutions to work towards all eight benchmarks over two years, with an evaluation tracking impact for two further years until 2019. The pilot is identifying the enablers and barriers in each school and college and modelling a sustainable and replicable approach to delivering good career guidance in a region. This good practice will be used to help us support schools and colleges across the country improve their career guidance.
Since the inception of the pilot in September 2015, the Good Career Guidance Benchmarks Pilot has resulted in transformational changes to schools' career programmes across the North East. The rapid improvements seen in the pilot have been due to; prompt reprioritisation by senior leaders, improved school and college career leadership and strong regional coordination from the LEP. We have seen that both institutional leadership and regional leadership are needed for there to be a significant improvement in career guidance.
Examples of good practice developed in the North East can be found on the following website we have developed for schools: www.goodcareerguidance.org.uk