Education
Latest
Good Career Guidance Benchmarks Pilot - Celebrating Success and Shaping the Future
Two years on, the Good Career Guidance Benchmarks Pilot has resulted in "transformational" changes to schools' career programmes across the North East (NE).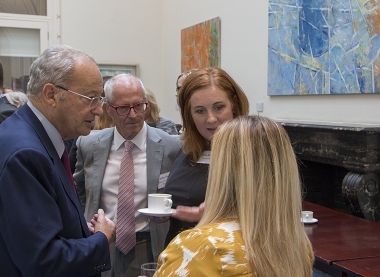 To celebrate this success and look to the future we welcomed career leaders, headteachers and key individuals from the NE Local Enterprise Partnership (LEP) to an event at the British Academy, London on Tuesday 13 June.
The event gave us a chance to highlight the excellent work of the 16 schools and colleges who piloted the benchmarks and to collate some learnings from the two-year pilot. Discussions concentrated on important next steps for embedding the benchmarks in schools and colleges across England.
Lord Sainsbury, who spoke at the event, expressed his thanks and his awe at the hard work and determination of the people in the room who ensured the NE pilot had such a positive impact.
Sir John Holman, who was commissioned by Gatsby to map out what good career guidance should look like in the UK and subsequently developed the Good Career Guidance Benchmarks, said:
"This occasion showcased the national importance of the pilot and confirmed that career leaders and headteachers from the NE pilot will be key players in Gatsby's future work. It was a wonderful day, full of uplifting stories about the people who really matter - young people starting out in life."
Ryan Gibson, National Facilitator for the Good Career Guidance Benchmarks Pilot at the NE LEP, said:
"The programme has been transformational in terms of improving students' access to careers education and helping them develop the skills employers need. The initiatives the North East LEP has developed as part of the Career Guidance Benchmarks pilot have improved collaboration between the business community and the education sector, as well as provide teaching staff with workplace training and personal development opportunities to better equip them with the knowledge and skills to provide effective careers advice to students."