Education
Latest
City of Liverpool College's Access Students latest to achieve RSciTech status
Assessment of exceptional Access to Science HE diploma students continues apace as participants from The City of Liverpool College became the latest to present their employer led project work. Those students that met the requirements and competencies achieved RSciTech status, as well as completing their diploma, on Thursday 18 June.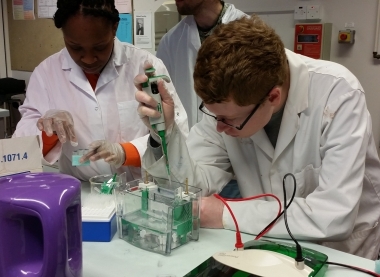 The College supported 29 of its Access students who decided to undertake the additional employer led project work as part of their diploma. Olivia Fitzgerald is one such student. She worked with the company Zep UK Ltd who were aiming to reduce the number of dyes in use in three of their manufacturing facilities by 40%. She, along with other students, analysed the company's dyes, to determine whether any of the dyes could be made redundant.
Andrew Thomas, RND Manager at ZEP, said: "I was very pleased to see what they have been doing; how they have interpreted the brief and how they have taken the projects forward. The enthusiasm of the students has been amazing.
"With the results we will be able to cut the number of our dyes, cutting costs and increasing the efficiency of the business. Not only have we gained financially from the scheme, but seeing the students engage with the project has been more rewarding than I thought it would be."
Olivia, who now plans to study Health Sciences at university, said: "I did the Access course because I had been out of education for a while due to spinal surgery. It seemed a suitable way to develop into higher education.
"The employer led project appealed to me because you get the ability to work with a professional organisation and get that experience that helps you to develop and of course hopefully achieve RSciTech status. I would definitely recommend the course to other people."
For details of how to join the scheme contact jean.scrase@gatsby.org.uk.
For more information on this area of work visit the Providing Technical Education programme page.