Education
Latest
Encouraging employers to invest in STEM apprenticeships
A new report from the Institute for Employment Research (IER) looks at the demand for STEM apprenticeships, the costs and risks incurred by employers taking on apprentices and how these might be mitigated.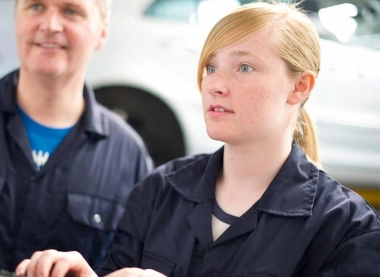 Lynn Gambin and Terence Hogarth from the IER found that there is demand in the UK labour market for intermediate-level STEM skills which Apprenticeships can help to meet. They note that STEM Apprenticeships can offer potentially substantial wage returns to individuals who complete them, and productivity gains to employers. The benefits to employers that train STEM apprentices include avoiding skill shortages, and obtaining a relatively good fit between the content of training and the needs of the business.
However, the cost to the employer of taking on an apprentice is relatively high. Estimates indicate that, at the end of the training period, an employer that has delivered a Level 3 Engineering Apprenticeship will have incurred a net cost of around £40,000. It can take an employer around three years after the end of formal training period to recoup this amount.
The report goes on to consider how the risks to the employer might be reduced, thus encouraging more employers to take on apprentices. The measures considered include:
1. Reducing the wage rates of apprentices to reflect average levels paid in Switzerland or Germany.
2. Increasing the productivity of apprentices.
3. Increasing economies of scale, for example through pooling resources (e.g. supervision of apprentices) across employers.
The full report is now available here.