Education
Latest
New CPD support for FE practitioners
Our current project with the Universities of Huddersfield and Wolverhampton, and Canterbury Christ Church University is supporting the design and delivery of industry-focussed, subject-specialist CPD for FE tutors and lecturers.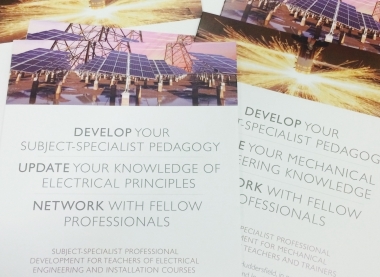 The courses have been designed with a strong focus on engagement with employers and development of subject-specialist pedagogy. Assessment is by means of a project geared towards improving teaching and learning within a participant's own setting. The course is delivered through a blended learning model, including a mixture of day sessions and online tutorials.
Each course focuses on a specific subject area:
Applied science - Canterbury Christ Church University
You can find our more about our work to support subject specialist initial teacher education on our Providing Technical Education programme page.
For further information on the course or to request a flyer, please email hannah.stanwix@gatsby.org.uk