Education
Latest
Gatsby at Association of College's Annual Conference
Colleagues from Gatsby will join hundreds of other professionals from the further education sector at the Association of College's (AoC) Annual Conference (15 - 17 November) at The ICC Birmingham, to discover and learn about the latest developments in the sector.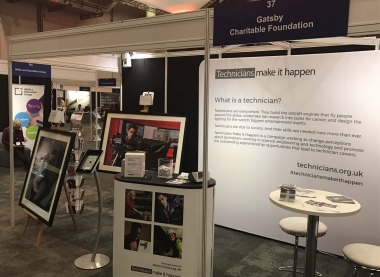 Lord Sainsbury, who chaired the Independent Panel on Technical Education, will be speaking as part of the keynote session on Tuesday 15 November in Hall 1 (16:15 - 17:30). David Sainsbury will discuss how the recommendations from the Independent Panel Report, taken on in the Post-16 Skills Plan, will not only improve, but transform, technical education in England.
Striking portraits of many of the technicians featured in Gatsby's Technicians Make it Happen campaign will be displayed throughout the conference venue. The exhibition explores the crucial role technicians play across society and the rich, intriguing diversity of the occupations that can rightfully and proudly be defined as 'technician'.
Technicians Make it Happen will also have a stand (37) in the exhibition hall with more information on the campaign. Visit the stand to find out more about how #TechniciansMakeitHappen
For more information on the AoC Conference visit: http://www.aocannualconference.co.uk/