Education
Latest
Heading for the precipice: can further and higher education funding policies be sustained?
Today (24 June) sees the publication of a report by Professor Baroness Alison Wolf that sets out how the structure of post-19 education funding is squeezing further education at such a rate it may "vanish into history".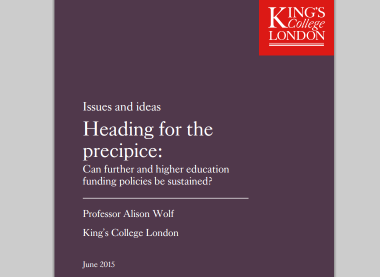 Heading for the precipice: can further and higher education funding policies be sustained?, published by the Policy Institute at King's College London and supported by Gatsby, sets out the scale of the squeeze on technical education.
Professor Wolf believes that as the gap expands between further and higher education funding, student demand will move into the university sector, driving technical education out of the FE colleges which are best placed and most suited to delivering it. She also argues that the government's commitment to creating three million apprenticeships is "largely unfunded" and urges the government to prioritise high-quality apprenticeships and not numerical targets.
The study shows how the current system is already failing to produce enough technicians, despite the strong market demand for them. The number of skilled Level 3 qualifications achieved has fallen over the most recent two-year period. At present, less than 5% of quality apprenticeships created are in engineering, manufacturing technologies or science, and only 1% are in ICT.
Professor Baroness Alison Wolf said: "We should all be extremely concerned about our increasingly inefficient and inegalitarian system of funding post-19 education. Our future productivity and prosperity are at risk if we don't address the ongoing erosion of provision outside the universities."
To view the report visit the King's College London website.
Visit our Providing Technical Education programme page for more information on our work in this area.