Education
Latest
Higher Technical Education Consultation - why it matters, now
UCAS recently announced that a record 39.5% of 18-year olds in England applied to a degree course this year. So, what are the remaining 60.5% planning to do and what options are open to them?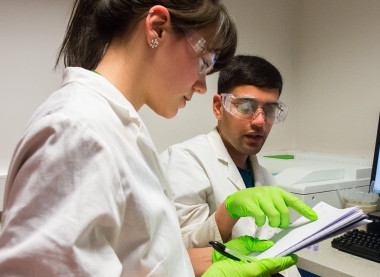 Some will be deferring degree entry, but a large number will not progress to higher education even though they have the potential. If we want more of the population to gain the higher-level skills the economy needs, then we need to do much better with the opportunities we give those whose passions and ambitions are stimulated by the workplace. Hence the DfE's latest consultation: how do we build a system of higher technical education (HTE) that is recognised, understood and valued by employers, professional bodies, careers professionals and wider society? How can we support education providers to offer technical courses that match the quality of degrees our universities are internationally famous for?
RCU's work for Gatsby, which mapped the landscape of HTE in England in 2016/17, revealed a thinly spread and diverse population of learners across many different types of courses and providers. This is not an easy landscape to navigate, so the DfE's proposals to support a campaign to promote HTE, building on the Careers Strategy rolling out in schools and colleges and the wider work of, among others: the Careers and Enterprise Company, Career Development Institute, National Careers Service and UCAS, is welcome. No doubt there are many other organisations who could have a role to play and Gatsby will be using its Technicians Make it Happen campaign to see how it could share more journeys taken by those who have engaged in HTE.
As recommended in the Sainsbury review, the DfE proposes that in order to secure high quality, there will be a new process for approving Higher Technical Qualifications (HTQs) overseen by the Institute for Apprenticeships and Technical Education (IfATE). This will ensure that the content of HTQs match what employers want, and that those studying HTQs work towards the same occupational standard as higher apprentices. The consultation asks important questions about HTQs such as should they be allowed to be small and specialist; should they align with professional body standards; and should they include employability skills or a period of work-based learning? All of these have merit, but employers and awarding bodies may have other suggestions. For example, Gatsby's report from international skills expert, Simon Field, suggested that assessment of HTE is crucial to get right, but often overlooked.
Quality doesn't stop at the qualification; it must continue to the provider. The DfE is proposing that institutions wanting to offer HTQs must prove to the Office for Students (OfS) that they have the right staff, learning environments and links with employers to do this well. This might look onerous, but it could be an opportunity for experienced providers of HTE to be better recognised for the efforts they already make to: recruit teachers with industrial expertise; invest in facilities and kit that reflect the modern workplace; engage with employers as co-creators and deliverers; and respond to local and national skills needs. It would be interesting to know whether the processes some professional bodies use to approve providers to offer their accredited courses use similar criteria.
Research undertaken for Gatsby last spring by York Consulting suggests that HTE providers would agree with the DfE's criteria for high-quality provision but would warn that this quality costs, particularly when matching industry salaries for teaching and technician staff, improving/expanding facilities to be industry-standard and giving staff time to work closely with employers. The HTE consultation references the Philip Augar report to the Review of Post-18 Education and Funding, which proposes that only learners of HTQs approved by the IfATE could attract the same level of funding - through tuition fees and teaching grants - as those on undergraduate courses. It also suggests the £1bn package of capital funding for Further Education (FE) Colleges (proposed by Augar) is prioritised for those providers who have achieved OfS recognition. FE Colleges, universities and others should use the HTE consultation as an opportunity to provide clarity and detail on the cost of good quality HTE.
But it is important to remember that costs can be shared, and quality boosted, by working in partnership. While the first 12 Institutes of Technology soon to open their doors will be able to grow their HTE provision through access to capital funding from the DfE, their ability to sustain often small-scale, specialist provision will rely on the strength of their collaborations between FE Colleges, universities, and employers. The HTE consultation asks in what other ways providers can work with local economic organisations such as Mayoral Combined Authorities, Local Enterprise Partnerships and Skill Advisory Panels to get the right mix of provision in their areas. But it's not just today's skills needs that are important. To exploit the new processes and technologies resulting from our investment in research and development, we need to anticipate the skills needs just around the corner. Gatsby is currently working with the High Value Manufacturing Catapult - one of a number of Centres of Innovation across the UK - to explore how HTE could better match the skills demands of our Industrial Strategy. The DfE's suggestion that the IfATE could commission new HTQs where there is demonstrable need could therefore be very important.
It is tempting to ask why this, now? This is part of the reforms put into play in 2016 with the DfE's Post-16 Skills Plan and those young people considering T-levels next year will want to know what, other than entering the workplace at 18, they could progress to. The DfE's Case for Change further highlights evidence of the need for technical qualifications at this level. Analysis we commissioned from London Economics showed how significant the rates of return for HTE could be in relation to degree courses, particularly in STEM areas. Clearly many employers are willing to pay good salaries for people with these skills and while numbers of Higher Apprenticeships are growing, they are still relatively small and not available in all areas, and they may be less appropriate for small businesses or mature learners already in work. Our report on the Missing Middle looked to other countries and found a much greater emphasis on HTE, which undoubtedly contributes to productivity. The author Simon Field also looked at the history of policy for this provision in England and found a series of well-intentioned but short-lived commitments to HTE. Reversing decades of neglect of this part of the education system must start now, and the DfE's proposals to create a system that starts with quality and continues with close alignment to employer needs is the right approach. What we need to see now is sufficient financial investment to incentivise and sustain the changes needed.
If you would like to hear more about our research and evidence-based positions on higher technical education, subscribe to our newsletter or follow us on Twitter. If you would like to share evidence and views with us, you are welcome to contact our lead on HTE, Ginny Page.