Education
Latest
Latest Gatsby report indicates substantial inequalities in the nationwide advertisement for specialist teachers
Findings of a new report published today indicate that certain types of schools and certain areas of the country are not advertising for specialist biology, physics and chemistry teachers.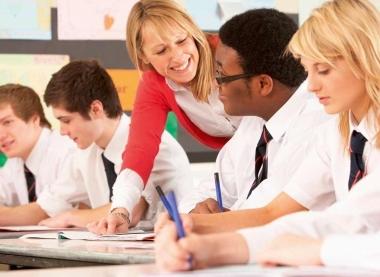 Analysis of science teacher advertisements issued in 2016 and 2017 shows that despite a lack of evidence that advertisements for generalist teachers are more successful than those for specialist teachers, recruitment for the latter is disproportionately low in certain schools, with those in coastal locations or with high-levels of low-attainment amongst the most affected.[i] These findings align with the recent findings of the Public Accounts Committee that there are significant regional variations in vacancy levels and teaching quality.[ii]
The Gatsby report, 'Specialist science teacher recruitment in England 2016-2017', is the latest to be commissioned by the Gatsby Charitable Foundation as part of its work to increase the recruitment and retention of high-quality physics teachers across schools nationwide. This is in response to the shortage of specialist teachers in the classroom. Evidence from the National Audit Office suggests that as recently as 2016 over a third of physics lessons were taught by teachers without a relevant post-A level qualification.[iii]
Jenni French, Programme Manager at Gatsby Charitable Foundation, said: "Previous studies have shown that specialist physics teachers are a powerful predictor of pupil achievement and progression to further study. As such, it is vital that we recruit sufficient levels of specialist teachers, particularly in the schools that need them the most."
To download a copy of the report, visit 'Teacher recruitment, retention and development' programme page.
Endnotes

[i] 'Specialist science teacher recruitment in England 2016-2017' analysed data from teacher advertisements collected in 2016 and 2017 by TeachVac. TeachVac is a National Vacancy Service for Schools and Teachers, now entering its fourth year. The service is free for teachers and schools.
[ii] Public Accounts Committee, 'Retaining and developing the teaching workforce', (2018), published online, accessed 31/01/2018
[iii] National Audit Office, (2017) 'Retaining and developing the teaching workforce', published online, accessed 29/01/2018