Education
Latest
Winners of STEM Inspiration Awards Announced
University of St Andrews technician Henry Rae has won Outstanding STEM Technician at STEM Learning's 'STEM Inspiration awards'.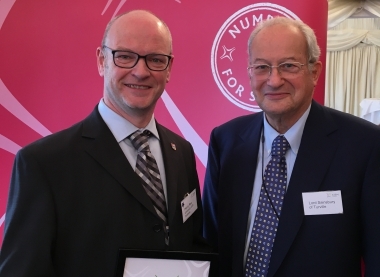 Lord Sainsbury presented Henry Rae with the award for Outstanding STEM Technician, in recognition of his efforts to inform and inspire young people with apprenticeships and technical careers.

After nine years working in industry, Henry chose to attend night classes to gain science qualifications and transform his career. He secured employment at the University of St Andrews, where he found a passion for working with students and teaching.
Lord Sainsbury said: "I am delighted to present Henry with the award for Outstanding STEM Technician which is particularly close to my heart. The efforts of Henry and others to inspire the next generation of technicians is critical at a time when industry and our education system have come together to transform our country's technical education system."

Raising the profile of technicians has been high on the agenda for universities this year, with institutions across Britain backing the Technician Commitment to support their technicians. The Commitment is a sector-wide initiative supported by our Technicians Make it Happen campaign to address key challenges facing technical staff. Now more than half of UK universities have backed the commitment since May 2017, including the University of St Andrews.