Education
Latest
Sharing the Gastby benchmarks of Good Career Guidance with Spain
The Gatsby career benchmarks have recently been shared with the Spanish Fundación Bertelsmann, giving us further confidence that the framework can help all schools provide good career guidance to their students.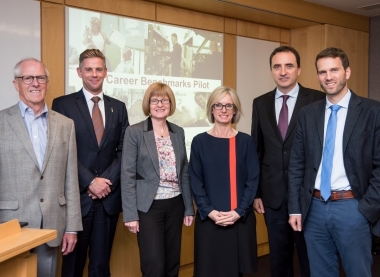 Tthe Fundación Bertelsmann aims to improve employment opportunities for young people and shares Gatsby's commitment to improving career guidance. They were interested in hearing about how the eight Gatsby benchmarks of good career guidance had been implemented in schools and colleges, and how Compass was being used to support this change.
The group spent time in the North East hearing from the Local Enterprise Partnership about the importance of regional coordination, and visited some of the schools and colleges that have taken part in a pilot of the benchmarks. Further information about the pilot can be found here.

The interest the Fundación Bertelsmann has shown in the framework provides confidence that the benchmarks define world class career guidance and will be of use not only to schools in England but in many other contexts too.