Public Policy
Programmes
Babbage Policy Forum
The Babbage Forum provides a unique platform through symposia and a network within which to develop new thinking at the interface of economics, engineering and management. This is to generate new insights with the potential to underpin industrial policies for economic competitiveness and growth.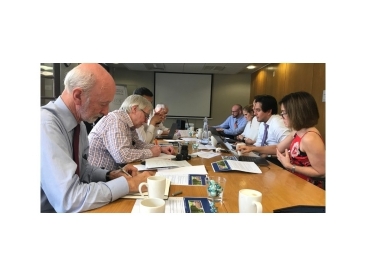 Gatsby supported Professor Sir Mike Gregory, previously Head of the Manufacturing and Management Division of the University of Cambridge's Department of Engineering and of the Institute for Manufacturing, to set up and chair the Babbage International Policy Forum in Cambridge. The Babbage network has been established with a group of leading international economists, engineers and operations academics and practitioners to develop new approaches to the understanding, analysis and design of policies for science, technology, innovation, manufacturing and industry.
The flagship event is the annual Babbage Symposium which seeks to enable deeper cross-disciplinary understanding and better integrated, more robust foundations for policy deliberations in science, technology, innovation and manufacturing. Combined with smaller topic meetings throughout the year, the Babbage Policy Forum addresses the challenges facing policy makers in these fields.
Convened Babbage symposia have highlighted the need for better integrated disciplinary foundations for the development of policy in the areas of technology, innovation and manufacturing. They have paid particular attention to the role of manufacturing and its accelerating evolution in response to changing technologies and global structures. Issues of productivity, competitiveness and leadership have also been addressed.
Gatsby has recently provided additional support for a second phase of Babbage activities. The opportunity now exists to take forward Babbage ideas, concepts and experience to build 'practical' tools, processes and guidelines for policy makers and politicians. This will include new outputs such as papers and case examples; an Industrial Research Fellow will develop and deliver materials for use by practitioners and researchers detailing Babbage and related ideas and processes (e.g. production capability). There will further expansion of the community by deverloping younger scholars pursuing multi-disciplinary, practice-oriented work.
The Babbage Policy Forum is part of Cambridge Industrial Innovation Policy (CIIP), which is based at the Institute for Manufacturing (IfM), a division of the University of Cambridge's Department of Engineering. CIIP brings together the Centre for Science, Technology and Innovation Policy at IfM and the Policy Links unit at IfM education and consultancy services.